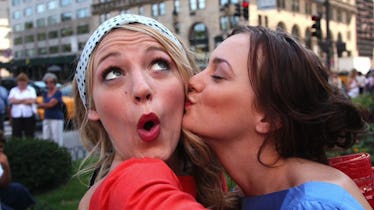 7 Best 'Gossip Girl' Moments Only The Serena To Your Blair Could Ever Understand
The drama level in Gossip Girl is taken up a few notches from real life, but the amazing friendship of Blair Waldorf and Serena van der Woodsen is something that's totally relatable. These girls have been friends since they were kids, so naturally, they experienced some ups and downs, but they were always meant to be best friends forever. They played with our heartstrings as they transitioned from friends, to "frenemies," then back to best friends, but over the course of the series, there's no denying that they loved each other dearly. If you have a best friendship just like theirs, you and your BFF can totally relate to more than one best Gossip Girl moments throughout the course of the series.
Minus the elite New York City Upper East Side lifestyle, you and your BFF most likely yell out "same" when watching episodes together, because Blair and Serena are just like you and your partner in crime. Hopefully, there's a lot less backstabbing, love triangles, and drama, but watching these seven Gossip Girl moments are essentially just like looking into a mirror of you and your BFF. Sure, there was a mysterious "Gossip Girl" thrown into the mix, but the show was really about the friendship of Blair and Serena, and just like B and S, you can't imagine anyone else by your side until the very end. So, tell your friend how much you care, because you know you love her. XOXO, Gossip Girl.