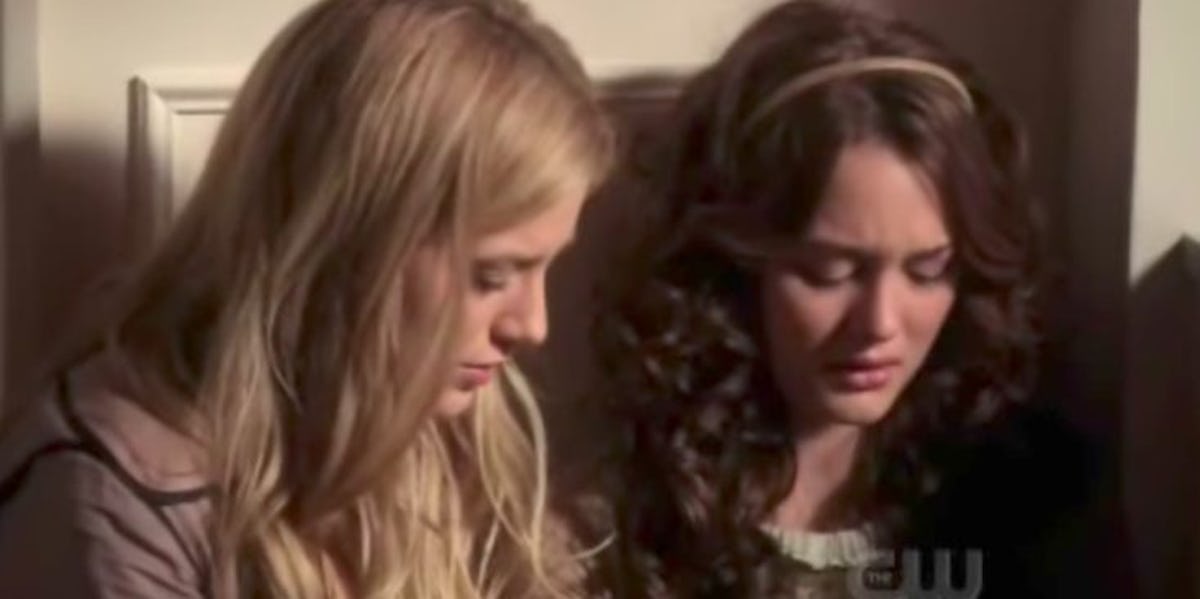 25 Best Blair And Serena Quotes That Will Make You Want To Hug Your BFF ASAP
If you haven't seen Gossip Girl, are you actually even a millennial? No, but really -- the television show was a popular culture phenomenon for our generation. The first episode aired on Sept. 19, 2007, aka, 10 years ago TOMORROW. Yes, you read that right: It's Gossip Girl's 10 year anniversary. Whether you were a diehard fan from the start, or you power watched your way through all six seasons (like me), we can all agree Gossip Girl was a game-changer. It defined our middle school and high school years (I know I tried to channel Blair Waldorf in literally everything I did. It was not successful), and it was the reason all BFFs and duos across the country start un-ironically calling each other "S" and "B" for no reason other than the fact that Blair and Serena did it, so it was cool. Blair and Serena were the ultimate duo, and you couldn't help but want to be like them. That's why there are some of the best Gossip Girl quotes that are truly meant for your friendship snaps on Instagram.
From B's ice queen comments to Serena's wild heart and whirlwind romances, we heard many epic quotes. In honor of GG turning 10, it's time we take a look back. Here are 25 of Serena and Blair's best quotes. You're gonna want to hug your bestie after this.
1. "All of the boyfriends and mean girls and teachers, and our crazy mothers, we went through it together. We raised each other." 
2. "My world is falling apart, and you're the only one who would understand."
3. "As long as we have each other, we're both gonna be okay." 
4. "And right now, I am with exactly who I wanna be with. My best friend."
5. "You're my sister." 
6. "I need you here." 
7. "I don't care about dating a prince. I don't care about dating anyone. I just care about you." 
8. "We're sisters. You're my family. What is you is me. There's nothing you could ever say that would make me let go."
9. " Look, Blair's my best friend and you're her boyfriend. And she loves you. That's the way things are supposed to be." 
10. "As long as we both have each other, we're both gonna be okay."
11. "I don't want to not know you. I can't not know you."
12. "Life is tough, Serena. Just get a helmet."
13. "I must have totally blanked on the part where I invited you over."
14. "We all try on old clothes from time to time, and, sure, we may even be surprised when they still fit, but that doesn't mean we should wear them again. Ever." 
15. "I love you, B."
16. "As much as a BFF can make you go WTF, there's no denying we'd be a little less rich without them."
17. "If you're gonna be sad, you might as well be sad in Paris."
18. "Once men have tasted caviar, it baffles me how they settle for catfish."
19. "I'll just stay home, eat lots of gelato, and write about how true love is nothing but a myth."
20. "We don't judge. We're the non-judging breakfast club, we're your friends."
21. "People keep fighting about the same things until it break them apart."
22. "Destiny is for losers. It's just a stupid excuse to wait for things to happen instead of making them happen."
23. "You're supposed to be my best friend. I miss you so much."
24. "I don't love you anymore. But it takes more than you to destroy Blair Waldorf."
25. "Three words. Eight letters. Say it and I'm yours."
And of course, no Gossip Girl post is complete without the show's most iconic line:
*you know you love me. XOXO, Gossip girl*