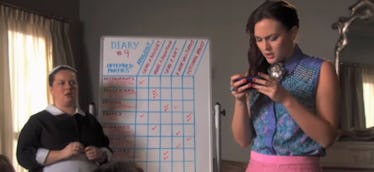 6 Blair & Dorota Moments From 'Gossip Girl' That Spoke To Us On Another Level
There was a lot of drama going on in the Upper East Side of Manhattan in Gossip Girl. With so many frenemies and backstabbing, it was difficult to know who you could actually trust. But luckily for our girl Blair Waldorf, she always had Dorota on her side. Dorota was truly the one constant good person in her life to help her get through every hardship and heartbreak. Throughout the series, we all wished we could have a friend like Dorota in our lives, especially after watching these classic Blair and Dorota moments from Gossip Girl.
Blair had a wardrobe and penthouse we all envied, but her friendship with Dorota was by far the most fulfilling. And although Dorota was the Waldorf family's housemaid, throughout the show Blair treated her more like a member of the family than someone who worked for them. Blair truly had everything at her fingertips. Some people have differing opinions on who was the real star of GG, but to be honest, I'd have to say it's definitely Dorota. She was low-key hilarious. And let's be real here, it was only around Dorota when we were blessed with a glimpse of ice queen Blair's softer sides (that is, when she wasn't out for the kill or ordering around her minions). That's why these six Blair and Dorota moments really spoke to us on another level and showed us the true beauty that lived in the Gossip Girl world of NYC.