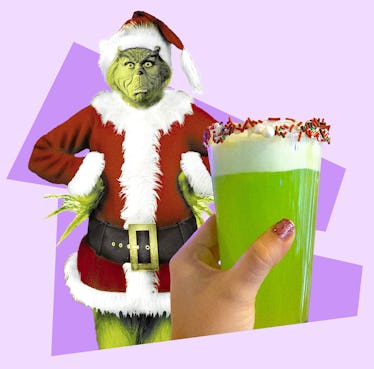 TikTok's Viral Grinch Punch Is A Sweet (& Boozy) Party Hack
Spruce it up, like Martha May Whovier would.
Elite Daily/Courtesy of Rachel Chapman; Imagine Ent/Kobal/Shutterstock
Just like Santa, your holiday party checklist probably includes playing festive tunes, baking seasonal treats, and serving boozy beverages for your guests to enjoy. For the latter, a traditional red cocktail may be a go-to for your white elephant gatherings, but in recent years, TikTok has cemented Grinch Punch as the sip of the season. Looking to add a unique green twist to the festivities this year, I finally tried making some of the viral drink at home to see whether it's as good as my FYP claims.
Making a themed sip is one of my favorite party-planning hacks. I'd rather buy the ingredients for one picture-perfect drink than get an assortment of things that people might not even enjoy. Of course, it has to be delicious if it's going to be the main character of my bestie holiday hang. The Grinch Punch may win extra style points due to its vibrant green color, but if How the Grinch Stole Christmas taught me anything, it's that looks aren't everything. And not only should the perfect holiday cocktail taste good, but I'm also always on the lookout for a recipe that's nostalgic and full of seasonal flavors.
Since most TikToks of the Grinch Punch don't have an exact recipe listed, replicating the viral drink wasn't easy. Nevertheless, I persisted — after watching several videos of TikTok's most popular Grinch Punch recipes, I put together the following ingredients:
Hawaiian Punch Green Berry Rush.
Lime sherbet.
Sprite.
Pineapple juice.
Tequila (you can also use vodka or rum as your spirit of choice; I just prefer tequila).
Your TikTok Grinch Punch Shopping List
The joy of Grinch Punch is that you can adjust it to your liking, but after watching almost 20 different TikTok videos and eyeballing the proportions, the average recipe begins by adding enough Hawaiian Punch to fill up half of your glass or pitcher. From there, add in equal parts pineapple juice, Sprite, and scoops of lime sherbet. If you'd like to make your punch a little boozy, fill the rest with the tequila, vodka, or rum. When the carbonated Sprite or lemon-lime soda is added in, your lime sherbet will rise to the top of the glass like a holiday version of a root beer float.
Along with the alcohol, I experimented with a few other ways to *punch* up my Grinch drink, including adding a holiday sprinkle rim to my glass to make it more Insta-worthy and elevated. This was something I got from a few TikTok videos like @eyecandyland_'s, who used cream cheese frosting with red sugar.
A sugar rim is easy to apply with frosting or simple syrup, but I wanted to go all out, so I added a Fancy Sprinkles holiday blend to my glass and made it stick with some vanilla frosting I had leftover from cupcakes I made. You could also mix in some green edible glitter for an additional sparkle. This was something I just had in my kitchen cabinet and wanted to experiment with to see whether it'd work and it did. I highly recommend this sparkly step since it really enhances the cocktail, makes it more festive, and won't change the flavor at all.
TikTok's Grinch Punch Is As Sweet As Cindy Lou Who
My first impression of the Grinch Punch was that it truly looked festive AF. The lime green color reminded me of the Grinch, and the sprinkle rim looked like when he wore the Holiday Cheermeister hat at the Whoville celebration. It was almost too pretty to drink, but luckily, this Grinch Punch was also pretty delicious — albeit not super on theme.
I enjoyed how creamy and sweet the cocktail was with a slight tartness from the pineapple, but ultimately, this tasted similar to a lime-flavored punch you'd find at any get-together. Other than the green color and aesthetics of the drink — which could have just as easily been tied to Wicked's Elphaba — I wouldn't say the actual flavors reminded me of the Grinch that much.
Anyone who's read the OG How the Grinch Stole Christmas! book by Dr. Seuss or watched the Jim Carrey film from 2000 knows that the Grinch is the antithesis to Santa. He loathes all things holly and jolly, so a drink that's super sweet and fruity doesn't quite fit his vibe. It also doesn't have tons of seasonal ingredients to it.
These Recipe Adjustments Will Make A Mean Grinch Punch — In A Good Way
To make the taste more on theme, I would recommend using mezcal instead of tequila to add a smoky flavor that's reminiscent of the Grinch trying to steal Christmas from the Whos in Whoville. It's a sweet cocktail, but you can always adjust the recipe to include less punch and more Sprite. Adding in some ice cubes will also help to water it down over time. Tossing in some cranberries, like TikToker @gabriela.atty did, can also help to give your drink a more festive and tart flavor.
Since this drink is super customizable, it's no wonder it's found itself on the TikTok FYP year after year. It's definitely a cocktail I'll be serving for my holiday movie nights, and hopefully, it'll make my friends' hearts grow three sizes when they taste it.