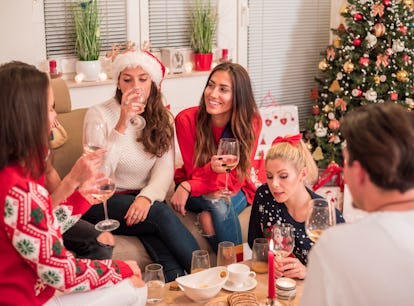 9 Unique Themes For Your White Elephant Party From TikTok
The gift exchange is about to get wild.
Ales-A/E+/Getty Images
The holidays are all about giving, but let's be real, getting gifts is also a ton of fun. That's one of the reasons a White Elephant party is always a good time — you get to do both. If you're looking for a way to change up your Secret Santa celebration and make your get-together even more special (and fun) this year, you definitely want to check out these TikTok-inspired themes for your White Elephant party.
Getting any kind of gift is great, but you also don't want to be the one left with something you can't use... or you just don't like. By adding a specific theme to your White Elephant party, you can go in with a good idea of what kind of item you'll bring home. Instead of Aunt Kathy's homemade craft project, you may end up with a Taylor Swift-themed gift, or even all the ingredients you need to make your favorite Christmas cocktail. Plus, you also get to pick out themed gifts, and that's always a good time. It's a win-win for everyone involved in the White Elephant party.
But coming up with a fun and unique theme for your holiday party isn't exactly easy. That's where social media comes in. Browse through these unique White Elephant theme ideas from TikTok and put your own spin on it to make your holiday party truly unforgettable this year.
This article was originally published on