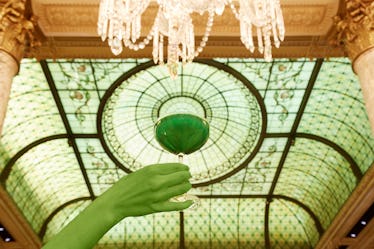 I Tried A Wicked-Themed Cocktail Better Than TikTok's Elphaba Drink
So if you care to find me, look to the Plaza Hotel.
Something wicked this way comes — but in, like, a good way. In celebration of the musical's 20th anniversary and amid spooky season, Broadway's Wicked production teamed up with the Plaza Hotel in New York City through Oct. 31 to deliver a themed experience that would make anyone green with envy ahead of Halloween. As someone who lives for an afternoon tea service and frequently attempts to hit the high note in "Defying Gravity," I took it upon myself to try the famed hotel's Witches Brew cocktail ($35) and other Wicked-inspired treats that are sure to be quite popular this fall.
From now through the end of the month, the Plaza, located in Midtown Manhattan, is serving up what's dubbed The Wicked Signature Tea ($134+ per person) and Grand Imperial Wicked Tea ($599 for two), both of which include themed savories like "What Is This Fig-ling" (fig and ricotta cream, roasted pistachio, mint, and sesame crust) and Glinda & Elphaba's Cucumber Sandwich, as well as sweets like "Look to the Brest'ern Sky" (choux pastry, almond sesame streusel, black sesame cream, and sesame praline) and a Flying Monkey Macaron.
Regardless of whether you choose to participate in either service, you could still order a Witches Brew cocktail (reservations are highly recommended no matter what you decide), a concoction that marries fresh lemon juice and albumin (powdered egg whites) with Tito's vodka and Midori (Japanese melon liqueur). The hotel describes it as a "bewitching potion fit for The Wicked," which a Slytherin like myself can't help but appreciate. Lemon is not normally a preferred flavor of mine, but it's not too sour for my taste in this drink — I think the sweetness from the Midori really balances it out. The Elphaba green color, also courtesy of the Midori, really ties it all together into one wonderful package.
TikTokers have provided a few Wicked-themed beverage options over the years, with and without alcohol. For the former, Broadway by the Glass, a creator who makes cocktails inspired by Broadway shows, recommends combining mezcal, sour apple Schnapps, triple sec (orange-flavored liqueur), agave, and lime juice for what they refer to as Oz's Sour Green Elixir. (FYI, it really lives up to the sour in its name, plus the green hue is very pale.) For the latter, users like Lovely on the Inside suggest the Elphaba drink, a combination of pineapple juice, ice, and Green River, a lime-flavored soda that comes in the character's signature green shade. It's tasty, I'll give it that, and it's the same color as the Plaza's drink... but it's literally pineapple juice and soda, so it's not very innovative. The Witches Brew cocktail is equal parts tasty, creative, and on theme, making it my new fave.
With the Ariana Grande-led Wicked movie musical being on indefinite hiatus, feasting on food and drinks inspired by the spectacle is the next best option (well, apart from seeing the Broadway production). If you want to taste it for yourself, reserve your seat at the Plaza Hotel's Palm Court ASAP before it's gone — for good — on Oct. 31.