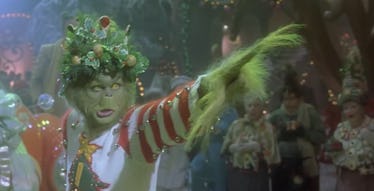 7 Ways To Avoid Being Grinchy AF When You're Feeling Down This Holiday Season
It's the most wonderful time of the year... or at least, it should be. For some people, it's difficult to hop right into that jolly holiday spirit. It may be that the holidays snuck up on you too soon, you're stressed out at work, or you just went through a crummy breakup. Or maybe, you feel like Christmas music has been playing since the beginning of fall and you're already over it. Whatever the reason may be, there are definitely some important things to consider when thinking about how to not be a Grinch when you feel yourself getting a bit down this holiday. You can get yourself out of your funk and right back to being your jolly self again in no time.
We totally get it. The holiday season can be expensive and overwhelming — from the bright lights, to the music, to the ho ho ho's. It's a lot to take in, and there's the pressure to be just as joyful all of the time as everyone else. It also can be rough to deal with everyone being happy when you're going through something tough. When you're feeling yourself turning into a Grinch, here are seven steps you can take to make your heart grow three sizes and avoid turning green. If the Grinch can get himself in the holiday spirit, you can as well. So, cheers Grinches to a happy holiday season coming to you very soon.