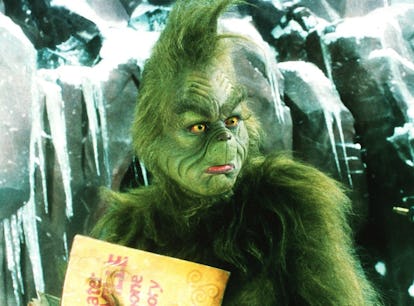 I Sent Quotes From 'The Grinch' To My Tinder Matches... LOL
And no, I'm not as cuddly as a cactus.
Universal Pictures
How The Grinch Stole Christmas is my favorite Christmas movie because he is all of us. Like, for example, he hates people, and refuses to go out when he can't find the perfect outfit (don't you hate when your favorite bodysuit goes missing?). He's emotionally stunted but good-hearted at the end of the day. Plus, he has a dog, so he can't be that bad. So, I wondered: What would happen if I messaged my Tinder matches with quotes from The Grinch?
Nothing spreads holiday cheer like a Tinder experiment. Even though I write about dating for a living, I totally overthink sending first messages on Tinder. I secretly love doing dating app experiments because they force me to overcome that anxiety. And as weird as it might sound to send Grinch quotes, movie quotes generally elicit a response! They're apparently just weird enough to make matches stop and say, "Wait, what?"
This holiday season, I figured that in order to find the most worthy dates for cute winter activities, I'd sift through matches who responded to my Grinch quotes. Luckily, the men of Tinder did not disappoint. I was pleasantly surprised to find very few true grinches among my Grinch quotes.
Here's how it all went down.
Through this experiment, I learned that the Grinch is low-key kinda smooth. So if you're looking for a date to bring back to your family Christmas, someone to buy you hot cocoa, or someone to kiss when ringing in the New Year, I suggest referencing The Grinch. Merry Christmas!