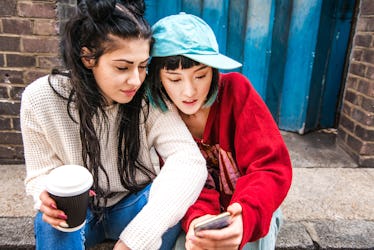 Besties, Here Are 60 Gen Z Captions For Instas That Are A Whole #Mood
Bonfanti Diego/Image Source/Getty Images
No generation is quite like Gen Z when it comes to setting the trends and committing to them on social media. They're not reserved when posting their outfits (chunky rings and flare jeans, anyone?), favorite TikTok dances, and thoughts on climate change to their social platform of choice, and ushered in a new era of #NoFilter posts and chill captions. As a Zoomer yourself, you can totally relate and are looking for Gen Z Instagram captions that would make internet stars like Emma Chamberlain proud.
Look no further, besties. These Instagram and TikTok captions for Gen Z are sure to sum up your day-to-day #mood while making your friends laugh, too. Some Gen Z captions will even remind you of your favorite one-liners from shows like Schitt's Creek or Outer Banks, while others will instantly transport you to TikTok where you're always singing along to Doja Cat and trying new recipes like baked feta pasta. Some of these Gen Z Instagram captions are casual messages you've probably sent in the group chat, like after your bestie sends a picture of their OOTD or asks if you want to head to the beach (The category is *Hot Girl Summer*). A few other captions can even be used for Gen Z Instagram bios that exude main character energy.
Of course, your generation will continue to create new trends, meaning some of these Gen Z Instagram captions might become cheugy over time. They'll become #EwDavid just like millennial pink, skinny jeans, and side parts. Even years from now, though, your fellow Gen Z besties will totally understand and love these funny Gen Z captions, so add them to your TikTok or Instagram post anyway.
"Bestie check!"
"That's going to be a 'no' from me."
"Tell me you're besties without telling me you're besties."
"Drop your skin care routine."
"10/10 would recommend to a friend."
"A little photo dump."
"This week in pictures."
"Hot Girl Summer is here."
"It do be like that sometimes."
"God, it's brutal out here." — Olivia Rodrigo, "brutal"
"Into the thick of it." — The Backyardigans
"We're out here romanticizing life."
"Get ready with me."
"Who did it best?"
"We understood the assignment."
"Main character energy only."
"Love that journey for me." — Alexis Rose, Schitt's Creek
"This is your sign to go on a date with your besties."
"TikTok made us try it."
"Snapchat saw it first."
"When you realize you're an adult..."
"Nothing about this look is cheugy."
"We have no choice but to stan."
"Shipping this."
"Light it up like dynamite." — BTS, "Dynamite"
"In my element."
"You've gotta trust how you feel inside and shine." — Arlo Parks, "Green Eyes"
"I'm the bad guy, duh!" — Billie Eilish, "bad guy"
"We are an unusual couple, you know?" — Wanda, WandaVision
"I come back stronger than a '90s trend." — Taylor Swift, "willow"
"I hate it here."
"You're my human bean."
"Another day, another OOTD."
"You are enough."
"Wake up, save the world, repeat."
"Bestie has entered the chat."
"Vibing, how about you?"
"Link in my bio."
"Keeping it spicy."
"Wait until the end."
"My vibe right now is just living life." — Kourtney Kardashian
"#NoSleep."
"You can't say we didn't live life."
"I don't skate through life, David. I walk through life in really nice shoes." — Alexis Rose, Schitt's Creek
"Fit check."
"I don't play with my pen. I mean what I writе." — Doja Cat, "Need To Know"
"Oh no! Our table! It's broken!" — America's Funniest Home Videos
"You're so golden." — Harry Styles, "Golden"
"This 'fit is fire — periodt."
"Something about this just hits different."
"I high-key am loving life right now."
"Is it bussin'?"
"This song is a bop."
"Living that Pogue life."
"When you being real, you ain't worried 'bout who fake." — Megan Thee Stallion, "Money Good"
"Sheesh!"
"I'm the CEO of looking good."
"Where the fam at?"
"TFW you didn't know someone was taking a picture."
"Sometimes, I'd rather spill the tea than sip it."
This article was originally published on