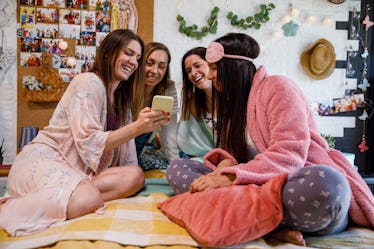 Here Are 60 Galentine's Day Group Chat Names For Your Beautiful Tropical Fishes
Some of these are waffle-y good.
fotostorm/E+/Getty Images
Ever since Parks and Recreation introduced Galentine's Day to your crew, you've chosen to celebrate the holiday all about friendships on Feb. 13. Whether you celebrate as Leslie Knope (Amy Poehler) would with waffles and handmade gifts, you need to get the text convo going to plan something ASAP. Luckily, these Galentine's Day group chat names will definitely come in handy when it comes to naming your text thread.
Your Galentine's Day group chat may include everyone already in your BFF chat. For that group text, you may even have a BFF group chat name chosen already. While that's fine for the rest of the year, for the season of love — aka the month of February — you need to switch things up. That's where this list of Galentine's Day group chat names comes in to play. Changing your chat name to a Galentine's Day pun or Galentine's Day quote will not only be on theme, but it'll also remind your fave people how much you care every time you get a text notification. If you're using something like Facebook Messenger, you could even switch up your text color to match the Galentine's Day vibes in your convo.
If you don't have a chat already happening, now is the time to start one. After all, you want to get all your Feb. 13 plans sorted out ahead of time. Having a chat will make scheduling your Galentine's Day easy breezy, whether you're planning a brunch picnic, a cozy movie night, a gift exchange, or just a living room dance party. Whatever's on the cal, these 60 Galentine's Day group chat names are sure to make everything as perfect as your "beautiful tropical fish" besties.
Uteruses Before Duderuses — Leslie Knope, Parks and Recreation
My Beautiful Tropical Fishes
Rainbow-Infused Space Unicorns
Poetic, Noble, Land Mermaids
Love You A Brunch
Love A Waffle Lot
All My Single Ladies — Beyonce, "Single Ladies"
Friends, Waffles, Work — Leslie Knope, Parks and Recreation
Ovaries Before Brovaries — Leslie Knope, Parks and Recreation
Wine With My Galentines
Galentine's Crew
You Can't Sip With Us
Eggcellent Squad
My OG Valentines
Ladies Celebrating Ladies — Leslie Knope, Parks and Recreation
Besties For The Resties
We're Looking Gouda
Some Tea Has Been Spilled
Boss Babes
Berry Best Friends
You Have All The Strengths — Leslie Knope, Parks and Recreation
Beautiful Rule-Breaking Moths
Beautiful Spinsters
My Hand Crocheted Flower Pens
The Only True Squad Goals
Powerful Depictions Of Awesome Ladies — Leslie Knope, Parks and Recreation
Waffle-y Cute
My Hot Waffles
A Whole Brunch Of Galentines
Bottomless Mimosa Party
Doing Waffle Things
Beautiful, Talented, Brilliant, Powerful Musk Ox — Leslie Knope, Parks and Recreation
My Beautiful, Naive, Sophisticated Newborn Babies
The Most Beautiful, Glowing Sun Goddesses Ever
Awesome And Everyone Else Sucks — April Ludgate, Parks and Recreation
Yoda Best Galentines
Bake Me So Happy
Bacon Galentine's Day Plans
It's Never Waffle With You
Keep Calm And Eat Waffles
Sip, Sip, Hooray
We Treat Ourselves
Slay Galentine's Day
Partners In Crime
Friends Are Forever
My Vibe Tribe
The Syrup To My Waffles
Brunch Harder Than We Party
Resting Brunch Face
Olive My Galentines
Love You A Choco-Lot
Galentine's Time
In Squad We Trust
Love My Galentines A Latte
My Starbucks Lovers
My Everything Bagels
Let's Taco 'Bout Galentine's Day
Will You Be My Galentine
My Galentine Best Teas
Meant To Bey Galentines