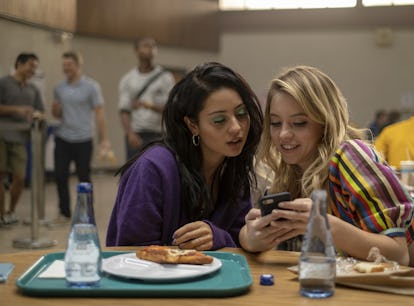 26 Euphoria Quotes About Friendship More Relatable Than The Drama In The Show
For when your BFF is your soulmate.
HBO's hit show Euphoria has proven week to week that no character is immune to the intense drama that happens in the show. While a lot of the situations from the series may not be super relatable to your high school experience, Euphoria quotes about friendship always hit home for you and your BFF. After all, it was Maddy who delivered the iconic "b*tch, you're my soulmate" line to Cassie in Season 1 that you may quote often to your bestie.
Of course, Season 2 really tested a lot of those close friendships and Maddy and Cassie went from soulmates to fighting over Nate. (Seriously, Nate is not worth it.) However, before all of that unfolded, Maddy Euphoria quotes about her friendship with Cassie were the perfect words to accompany your selfies together. Even Maddy from Euphoria quotes from Season 2 show that despite everything, Cassie still means a lot to her.
The same can be said with Rue Euphoria quotes. Zendaya's character has truly been through it all, but she has an amazing support system from old friends like Lexi to new friends like Elliot. Whether you've got a squad like the one Maddy, Kat, and Cassie have or you're thinking of just posting a snap with your best friend, these Euphoria quotes for Instagram will make the perfect caption.
"B*tch, you're my soulmate." — Maddy
"I hate everyone else in the world but you." — Jules
"We should just pick the hottest, most confident, bad b*tch version of ourselves and be that for the rest of the school year." — Cassie
"Are you glad that we became friends?" — Fezco
"Are you talking to your mama about me?" — Jules
"Out of everyone in the world, I wanted to tell you." — Jules
"I just, I don't want anything bad to happen to you. And you know, you just can't be mad at me for wanting you to be OK." — Rue
"You're the best thing that's happened to me in a really long time." — Rue
"I love you. I really do." — Jules
"It's 'cause of you, you know." — Lexi
"I just wanted to let you know seeing it meant the world to me." — Rue
"Howard, let's roll." — Rue
"She's super f*cking sensitive, she's very forgiving, and she's basically the most wonderful f*cking person on the planet." — Rue
"You met where you met." — Fezco
"You f*cking fearless." — Fezco
"Where'd you go? I was starting to miss you." — Fezco
"You're like the coolest person in here." — Fezco
"I wish I had your collarbone." — Maddy
"I just want to tell you that talking to you was one of the best parts of my whole year." — Fezco
"Sometimes two people in the universe who aren't meant for each other find each other." — Cal
"She's my best friend, even though I think we've grown apart." — Rue
"Suddenly, the whole world goes dark and nothing else matters except for the person standing in front of you." — Rue
"I wish you could see yourself the way the rest of the world sees you." — Jules
"You love to be loved." — Maddy
"Sorry if I missed the old you." — Lexi
"I have never, ever been happier." — Cassie