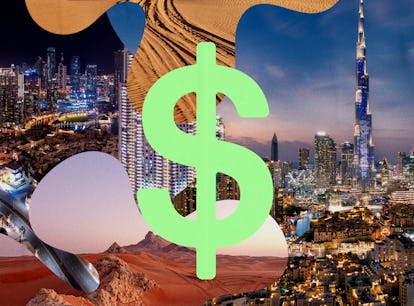 How To Spend 48 Hours & $480 On A Vacation In Dubai With Your Bestie
Live like an influencer without the 💸 price tag.
Elite Daily
Ask anyone about luxury travel destinations and Dubai is *it*. The largest city in the United Arab Emirates is known for going big when it comes to shopping experiences, architecture, and decadent cuisine; any headline-making event in the area screams next-level expensive. Remember that infamous Tarte brand trip in January? The influencers first touched down in Dubai before their lavish weekend in the UAE. And Beyoncé's viral pre-Renaissance Tour concert, aka her first live show since her 2018 Coachella performance? Yup, same location. So, planning an inexpensive weekend bestiemoon to the hot spot may seem too far out of reach — but it doesn't have to be. If you and your BFF are willing to go halfsies, then you could actually spend two days in Dubai on a much smaller budget than you'd think.
While attending the grand opening week of Atlantis The Royal Dubai, the self-dubbed "most ultra-luxury experiential resort in the world," I got a taste of what the UAE city has to offer, including many of the ultra-luxe experiences like Queen Bey's one-time-only slash invite-only concert (sans $100,000 "Royal Mansion" suite, though). But I can honestly say that some of the best experiences were the ones that wouldn't make you hold your breath as you swiped your credit card.
Below, you'll find a 48-hour Dubai itinerary complete with delicious food, unique activities, and breathtaking sights that make the emirate worthy of being crowned the most popular travel destination on TikTok. All you'll need is your Day One and $480 (minus flights and accommodations).
Friday
2 p.m.: Arrive at Dubai International Airport
One of the hottest spots for accommodations is Palm Jumeirah. The palm tree-shaped archipelago, which is about a half-hour drive from Dubai International Airport, is home to the new Atlantis The Royal, the OG Atlantis, The Palm (where I stayed), as well as other notable hotel chains like Waldorf Astoria, St. Regis, and Marriott. Regardless of where you choose to stay, you and your bestie will most likely want to take a taxi after such a long flight.
Taxi to accommodations: $25 | $12.50 per person
3:00 p.m.: Head to Palm Jumeirah Boardwalk
After a quick stop to freshen up at your accommodations, you can take a short walk to the boardwalk, which has stunning views of the Persian Gulf made for all your Instagram stories.
Snapping pics: Free
4:15 p.m.: Grab a late lunch
Once you're done soaking up the sun and snaps on your stroll, you can take a quick walk to the closest metro station to Al Ittihad Park. In less than 15 minutes, you'll find yourself steps away from the same show-stopping views right around Kyma Beach, where you and your bestie can al-fresco dine and drink right next to the sand. The Greek restaurant serves dishes that you could easily split like a selection of dips, grilled and fried appetizers, and large entrees. My personal fave? The seafood risotto. The squid, the mussels, the shrimp... I melt.
Metro to Al Ittihad Park: $4
Lunch at Kyma Beach: $45
5:45 p.m.: Hit up the beach & more boardwalk
No need to go back to your weekend home just yet. Take a beat to unwind at Palm West Beach — which is open to the public from 8 a.m. until midnight every day for swimming, working out, eating, and more — right alongside the restaurant or continue down this side of the boardwalk. Though there aren't any landmark pit stops in the area just yet, you can take a stunning selfie with the Dubai skyline right in the rearview.
Lounging and strolling: Free
6:30 p.m.: Head back to The Palm
Once you're done taking in the scenery, you can head back the same way you came, where you can either explore your accommodations a bit more, or relax, regroup, and refresh before your next meal.
Metro back to accommodations: $4
9 p.m.: Eat dinner nearby
My internal clock was all over the place when I landed in Dubai (GST is eight hours ahead of my usual EST), so even though I was exhausted, I wanted to power through a bit more with a hearty dinner, and En Fuego is a great place to do that. Located inside Atlantis, The Palm, the Latin restaurant is a major vibe. From the delicious appetizers (the prawn and coconut ceviche was *chef's kiss*) to the grilled entrees (hellooo, flank steak), the food is bomb. And let's not forget the ambiance — depending on what time you go, you could catch some live entertainment including a DJ, a live band, or even flaming hoop artists.
Dinner at En Fuego: $55
DAY 1 TOTAL: $120.50
Saturday
8 a.m.: Leave for Hatta
A place with complimentary continental breakfast can really come in clutch when you just want to get up and go, and that's exactly what I did the morning we left for the Hajar Mountains. Since I knew we'd be sitting in a car for two hours, I grabbed a banana from one of the eateries at the resort, some snacks, and ate at my leisure en route to the area before fitting in a quick nap (because the jet lag was real).
Taxi to Hatta: $75 | $37.50 per person
10 a.m.: Choose your own adventure
Kaitlin Cubria/Elite Daily
Kaitlin Cubria/Elite Daily
Kaitlin Cubria/Elite Daily
Kaitlin Cubria/Elite Daily
I mean, what can't you do in Hatta Valley? Archery, zip lining, axe throwing, tube-sliding — we even played a game of zorb football, which I always wanted to do after watching One Direction's "Live While We're Young" music video.
Activities start at 15 AED (roughly $4 USD)
12:30 p.m.: Break for lunch
There was nothing that I didn't enjoy from Taste of Hatta. The food truck, which was located right by the entrance when we went, has a selection of melt-worthy treats, one of which was a classic beef burger with "our special touch" that tasted like Flamin' Hot Cheetos.
Lunch at Taste of Hatta: $18
1:30 p.m.: Get back into it
If you're only down to do one thing in Hatta, I highly recommend riding the rovers. It's 45 minutes of exploring the village while you quietly whisper to yourself, "Oh my God, oh my God, oh my God..." as you bump along the terrain, hoping not to faceplant. OK, maybe that was just me, but I still had the most amazing time, I swear.
Activities in Hatta Valley: $48
3 p.m.: Head back to The Palm
Another two-hour car ride means another opportunity for a power nap. (Trust me, as soon as you sit down and close your eyes, the post-Hatta exhaustion will kick in.)
Taxi back to accommodations: $75 | $37.50 per person
7:30 p.m.: Leave for dinner
By this time, you should be well-rested, showered, dressed, and ready for a night out on the town. Simply call up a cab and travel about 20 minutes to the Dubai International Financial Centre (DIFC), home to a variety of cute cafes and fine dining restaurants.
Taxi to DIFC: $14 | $7 per person
8 p.m.: Dinner in the heart of the DIFC
The menu at Amazónico Dubai still has a hold on me. Starting from the Ensalada Amazónica, which consists of avocado, mango, confit tomato, and citrus, to the array of raw seafood and grilled meat dishes, with a tropical drink (or two) in between, the meal was delectable to the very end. I was honestly sooo full when it came time for dessert... but I managed to find some wiggle room. The Piña Rostizada — a roasted caramelized pineapple, quimbolito (a pastry with raisins) cake, and coconut sorbet dish — continues to live in my mind rent-free.
Dinner at Amazónico: $75
11:30 p.m.: Head back to The Palm
Once you're done stuffing your face, you can visit the rooftop for a cocktail or to at least take in the atmosphere. Think of the Amazon, but chic. Then, it's back to your humble abode.
Taxi back to accommodations: $14 | $7 per person
DAY 2 TOTAL: $205
Sunday
9:00 a.m.: Pack up & leave for downtown Dubai
Though you could grab something to eat near your accommodations, I suggest holding off, if you can. There are so many places to eat near the Burj Khalifa, aka the world's tallest building, you won't want to spoil your appetite.
Metro to downtown Dubai: $9
9:30 a.m.: Breakfast near the Burj Khalifa
Where you eat depends on your mood and, of course, your budget. If you're willing to splurge on a five-star meal, there's no shortage of options, especially with all the neighboring hotels. If you're looking for something more low-key, though, then the Dubai Mall is a world of its own. (Like, architects for the space built an actual Chinatown as part of the mall this year.) Café Bateel, located on the lower ground floor of the Dubai Mall, is a great spot for zhuzhed-up brunch dishes. Truffle scrambled eggs?? RIP me.
Breakfast: $30
11 a.m.: Take in the sights at Sky Views Observatory
Yes, you could go to the top of the Burj Khalifa and feel like you're on top of the world, but a possibly better option would be to visit the nearby Sky Views Observatory instead, so you could actually get the Burj Khalifa in your pics. Not only can you slide down a plate of glass for a more 360-view of your surroundings, but you could also participate in the Edge Walk — as in, literally walk ON THE LEDGE of the SKYSCRAPER. Unfortunately, the latter was closed the day I went. Guess I'll just have to go back to Dubai another time to try again. Oh, what a shame.
Visit to the Sky Views Observatory and Glass Slide: $23
12 p.m.: Head to Wafi City Mall
OK, that was fun, but the adventures don't have to stop there.
Metro to Wafi City Mall: $2
12:30 p.m.: Explore the Wafi City Mall
The WAFI Mall has so many cute shops where you could find inexpensive souvenirs, but if you're a fan of immersive experiences, then AYA is a must. The lit-up space refers to itself as a "sanctuary, hidden beyond the far side of the stars." All I can say is that there's a reason it went super viral on TikTok, with more than 2.5 million views.
Walk through the AYA experience: $27
Souvenirs: $26
2 p.m.: Leave for Dubai International Airport
It's less than a 10-minute drive from the WAFI Mall to the airport, so at least you won't have to go far after you're done with your exploration.
Taxi to DBX: $25 | $12.50 per person
DAY 3 TOTAL: $154.50
Total cost: $480
And just like that, your budget-friendly weekend trip to Dubai with your best friend is over... unless, of course, you choose to extend your stay. In which case, girl, have I got some luxe suggestions for you: Bubbalicious Brunch? Aquaventure Waterpark? Nobu by the Beach? You know what, I think we're going to need another week (and just a few more dollars).