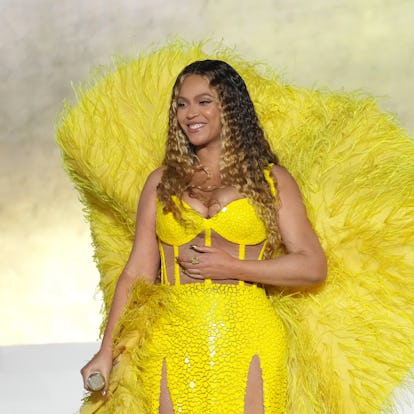 Beyoncé's Dubai Hotel Suite Is Now Available For Booking
The pics (and price) of this space will break your soul.
There's luxe, and then there's Beyoncé luxe. Earlier this month, Queen Bey took the stage for her first post-Renaissance show at the Atlantis The Royal Dubai hotel's grand opening ceremony — an event so spectacular and lavish, it went viral for its over-the-top theatrics, star-studded guest list, and overall opulence. Now, the same space the "Cuff It" singer occupied during the monumental occasion is open for business, and you can bet that you'll see stars after you see the price.
On Feb. 10, Dubai's Atlantis The Royal will officially open its doors, giving the public the chance to indulge in what stars like Kendall Jenner, Liam Payne, Rebel Wilson, and, of course, Beyoncé and her family had the opportunity to experience only weeks prior. But, considering the hotel refers to itself as "most ultra-luxury experiential resort in the world," and paid the Grammy winner a whopping $24 million — the most expensive private performance by any celebrity, according to Forbes — you just *know* it'll be more than your average stay.
How Much Is Beyoncé's "Royal Mansion" Hotel Suite?
Stays in the "Royal Mansion" cost $100K. Per night. With a two-night minimum. And that's something the resort's team takes pride in. The space Beyoncé, Jay-Z, Blue Ivy Carter, and the rest of the Lion King star's fam occupied the weekend of her first live show since her 2018 Coachella performance was even helmed by Atlantis Resorts Managing Director and Vice President Timothy Kelly as "the most expensive" and "largest [hotel accommodation] in the world."
Inside Beyoncé's Dubai Hotel Suite
With a name like "Royal Mansion," and with a family like the Knowles-Carters taking up short-term residence, the space has to be dripping in luxury, right? Umm, that'd be putting it mildly. The photos alone look expensive.
So many amenities, so little time (or, rather, so little desire to give you more reasons to *cry in broke college student*) — but these talking points for the four-bedroom penthouse should clue you in a bit more on the luxurious aesthetic:
Dedicated butler services
Temperature-controlled infinity pool
Private sun deck and seating area
Private terrace and outdoor kitchen
Entertainment room with 98" LED TV screen
If you're like most of the population and cannot afford to spend essentially four year's worth of college tuition a night on lodging, Atlantis The Royal Dubai's non-Beyoncé-connected rooms cost an average of $1,000 per night. For an even more affordable stay that won't break your soul or the bank, Atlantis, The Palm — which is only minutes away from The Royal — offers similar views and gorgeous accommodations for a fraction of the price, with some rooms priced lower than $300 per night.
Atlantis The Royal Dubai opens on Feb. 10. For more information, visit atlantis.com/dubai.