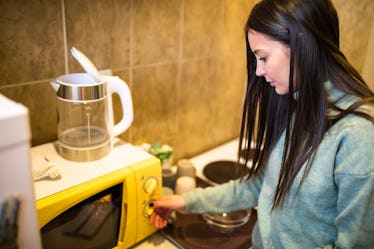 10 Easy Dorm Room-Friendly Recipes On TikTok You Can Make With Just A Microwave
Some of these are really mug-nificent.
Aleksandar Jankovic/E+/Getty Images
Living in a dorm doesn't mean all your meals need to come from the dining hall or a coffee cart on the way to class. You can also enjoy more than just ramen and microwave popcorn when hanging out in your room, thanks to all the easy recipe ideas on TikTok. If you want to be your very own gourmet chef, try out these easy dorm room-friendly recipes from TikTok that you'll be able to whip up without a kitchen.
All you need are some simple appliances allowed in the dorms, like a microwave and toaster oven, along with ingredients you can easily store in your mini fridge. For some people, staying in the dorms might be your first experience living on your own. This is your chance to ease your way into adulthood by polishing up your cooking skills and create some mainstays for the next four years (and beyond).
When you're craving something other than dining hall waffles or the cafeteria salad bar, make yourself a microwave pizza or a veggie-filled grain bowl. You can also find some quick breakfast dishes from this list of dorm room-friendly TikTok recipes to make on those mornings when you don't have time to grab something to eat before lecture. Plus, let's not forget snack ideas for late-night study sessions with your roomies. If there's something you're craving, TikTok has your back. So, check out this list of easy recipes for delicious meals you can make without a stove or oven.