This Duo Is Ramen-t To Be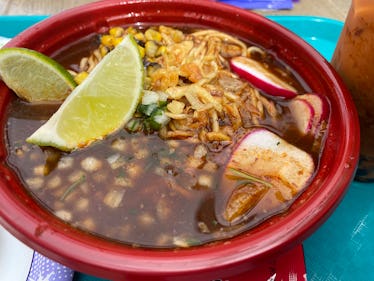 I Tried Disney's Viral Beef Birria Ramen & The Hype Is *So* Real
Pro tip: Mobile order this early.
Rachel Chapman
TikTok can't seem to get enough of beef birria tacos, and Disneyland now has a viral spin on the dish for guests to enjoy when they're not riding Space Mountain and taking pics with Mickey Mouse. The Beef Birria Ramen at Disney California Adventure is part of the new menu at Lucky Fortune Cookery, and after seeing it all over my FYP, I just had to try it for myself.
Lucky Fortune Cookery is located in the now open San Fransokyo Square, which is inspired by Big Hero 6. The updated menu also includes the Insta-worthy and adorable Baymax Macaron filled with a Nutella-like spread and buttercream, as well as a Thai Tea with sea salt cream and brown sugar boba. I ordered all three items for lunch, but the Beef Birria Ramen really was the star of the show.
Taking inspiration from popular beef birria tacos — which you can actually find at Cocina Cucamonga, also in San Fransokyo Square — this ramen is a perfect mix of Japanese and Mexican cuisines. You have ramen noodles in a consommé broth that is served with house-made birria along with a soft-boiled egg, Monterey Jack cheese, cilantro, roasted corn, onions, and radish. You might not be thinking of ramen as a theme park food, but if you're a Disney foodie like me, you'll definitely want to add this dish to your must-try list.
Disneyland's Beef Birria Ramen Review
Forget Hannah Montana, because this Beef Birria Ramen really has the best of both worlds. This dish combines ramen and birria tacos into one flavorful bowl, and it doesn't skip out on quality. As TikToker Jasmine Pak (@jasminebellepak) says in her review, the noodles are "nice and bouncy." I would even say they were as good as some of the noodles I had while in Japan this summer.
As much as I enjoyed the noodles (and you get a lot of them in the bowl), my only critique is that I wish there was more of the actual beef. Not only is it tender, but it's also packed with flavor. The perfect bites had a bit of the noodles with the beef together, and you got the spice coming from the consommé as well. The broth does have a kick to it, so if you're sensitive to spicy foods, make sure to order the Thai Tea as well. While my tastebuds were definitely feeling the heat, I wanted to slurp down every last drop.
Another highlight for me was the soft-boiled egg. It truly is cooked to that perfect consistency where you get that nice runny yolk in the middle. While this ramen may be from one of the quick-service spots in Disneyland, it's prepared as if you ordered it at a sit-down restaurant. However, just because the service is fast, that doesn't mean the line isn't long. This dish is popular, so prepare to wait if you're going around lunchtime or dinner. Thankfully, it is also available for mobile ordering if you don't want to stand around.
Since I knew I wanted the Beef Birria Ramen, I mobile-ordered my lunch in the morning on the Disneyland app. When it was my time, I went to Lucky Fortune Cookery and had them prepare it once I got there. I still had to wait about five minutes for my order to be ready for pickup, but that gave me plenty of time to find an open table. While the ramen may be $15, it was definitely worth it, especially since it's so filling. I ate this for lunch and snacked the rest of the day to save some money on food.
After trying both the food at San Fransokyo Square and the new Princess and the Frog restaurant, I'm excited about where Disney is taking its food menus. While you still have classic snacks like Mickey-shaped pretzels and churros available throughout the park, there is now an opportunity to get high-quality dishes when you need something more — a dream come true for any Disneyland foodie.