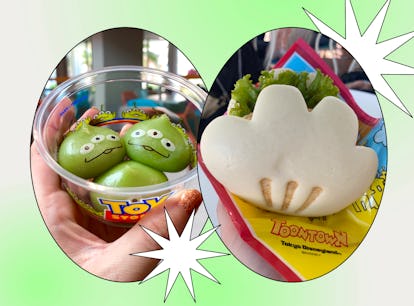 A Ranking Of The Viral Snacks At Tokyo Disneyland & DisneySea
Does the TikTok-viral Alien Mochi live up to its hype?
Rachel Chapman/Elite Daily
There are 12 Disney theme parks around the globe from California to Shanghai, and the ones at Tokyo Disney Resort consistently rank among the best. In fact, TikTokers frequently call Tokyo DisneySea the best Disney park in the world, and the exclusive food available has a lot to do with why it's a fave. As a Disney foodie, visiting the Tokyo parks has been on my bucket list for years, and I finally got to go this summer. During my time at both Tokyo DisneySea and Tokyo Disneyland, I tried every viral snack to see what's actually worth it to eat.
The one thing that really sets the food at Tokyo Disney Resort apart from all the parks in the U.S. is how kawaii and Insta-worthy it is. While Dole Whip and beignets are a fave at Disneyland in California, they aren't as picture-perfect as the Toy Story Alien Mochi and Mickey Mouse popsicle treats that you can find in Japan. Even their churros are Mickey-shaped, and the popcorn comes in every flavor imaginable. Just because the food is cute doesn't always mean it's as delicious, though. To help you plan out your dream vacay to Tokyo Disneyland, here is a ranking of the best snacks to get on your trip — and a few to skip if you're pressed for time.