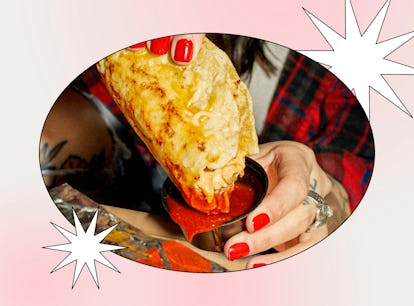 Taco Bell's Grilled Cheese Dipping Taco Tastes Like TikTok's Birria
It's better than the Mexican Pizza.
Taco Bell/Elite Daily
Taco Bell fans, you're going to want to listen up. There's a new item on the menu that was made for lovers of both cheese and birria tacos. Taco Bell's Grilled Cheese Dipping Taco is made with birria-inspired slow-braised shredded beef, wrapped in cheese, and then served with two delicious dipping sauces. The cheesy goodness comes to stores nationwide on Aug. 3, but I was invited to a VIP tasting event in Los Angeles a few days prior to be one of the first people to try the Grilled Cheese Dipping Taco — and I think I've found my new go-to order.
To celebrate Taco Bell's next chapter, guests at the tasting event were served Taco Bell's Grilled Cheese Dipping Taco along with both the nacho cheese and zesty red dipping sauces to try. There was also a vegetarian option to try made with black beans, which isn't available in stores, but the star of the show really was the birria-like shredded beef. Inspired by the viral TikTok trend, Taco Bell came up with their own recipe for tender and juicy beef that's much different than the typical seasoned beef you get from their tacos. The Taco Bell shredded beef is infused with onions, garlic, bell peppers, tomatoes, cumin, and spices to really bring in those birria flavors.
Along with the shredded beef, the Grilled Cheese Dipping Taco also has a creamy jalapeño sauce and three cheese blend added inside the fried white corn tortilla shell, which is then wrapped in grilled cheese. You can order the birria-inspired taco a la carte for around $3 each while supplies last.
Taco Bell's Grilled Cheese Dipping Taco Review
It's safe to say I love Taco Bell's Grilled Cheese Dipping Taco, and can't wait to order it again. I'm always down to try something new from Taco Bell since they rarely miss the mark, and this latest offering from their grilled cheese menu is better than the viral Mexican Pizza. The shredded beef really was the "it girl" at the party with how tender and flavorful it was. I felt like I was eating the street food birria tacos on TikTok, and the dipping sauces made the experience more fun. Of course, I would love if there was a birria broth for dipping, but the combination of the nacho cheese and red sauce brought out a lot of flavor in the tacos.
However, the dipping sauces do make this taco a little messy, so make sure you grab some napkins. I also was left disappointed in the black bean version. It was missing that extra bit of spice and juiciness that the shredded beef version had, but it is nice that anyone at the party who didn't eat meat could enjoy their own Grilled Cheese Dipping Taco. You also can't go wrong with a cheese-covered taco shell. The blend both inside and on the outside of the taco includes cheddar, mozzarella and pepper jack. You can always count on Taco Bell to give us more to taco 'bout.