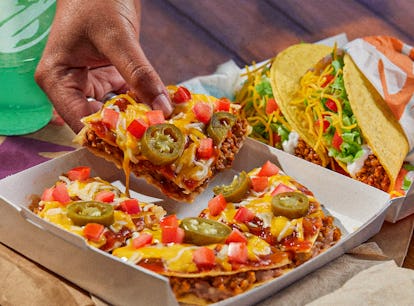 Taco Bell Mexican Pizza Review: Trying Jalapeño & Triple Crunch Flavors
But, like, how are they so good?
Courtesy of Taco Bell
Just when you thought you couldn't love the Mexican Pizza any more, Taco Bell rolled out out two new flavors to make you fall head over heels for the entree all over again. Say hello to the Triple Crunch and Cheesy Jalapeño Mexican Pizzas that take the fan-favorite offering the next level. They're only available for a limited time, but before you make a trip to the test cities, here's what you can expect from these newcomers to the Taco Bell menu. But before you do, you probably want to know what to expect from the cheesy menu items. This review of Taco Bell's new Mexican Pizza flavors breaks down everything you need to know about the new flavors — and how they compare to the OG.
Now that the infamous Mexican Pizza Shortage of 2022 is a distant memory, you can let out a sigh of relief knowing Taco Bell's latest update on the bite is about more pizza flavors. The Triple Crunch and Cheesy Jalapeño Mexican Pizzas launched in Omaha, Nebraska, and Oklahoma City, Oklahoma, respectively, on Dec. 22, 2022. As the name implies, the Triple Crunch Mexican Pizza has three times the goodness of the OG Mexican Pizza with three crispy flour shells, twice the amount of beans and seasoned beef, and the usual pizza sauce, melted-three cheese blend, and tomato toppings.
Just like the OG Mexican Pizza, the Cheesy Jalapeño Mexican Pizza features two crispy flour shells layered with beans, seasoned beef, tomatoes, and a melted three-cheese blend, plus an added Nacho Cheese Sauce and spicy jalapeño slices for an extra cheesy and spicy punch.
It's never a good idea to mess with perfection, but if you're curious about the new innovations, I've got you covered.
Triple Crunch Mexican Pizza Review
This 'za is loaded with ingredients. It's much thicker than your usual Mexican Pizza, but it's not too much to handle. In fact, the bottom flour shell is much sturdier than you'd expect, and doesn't droop or spill any of the fixin's.
This take on the Mexican Pizza is bursting with beef flavor, and I couldn't taste much (if any) of the beans, sauce, or tomatoes — but I didn't mind. The extra beef gives it a soft texture, and there's plenty of cheesy goodness.
Compared to the original Mexican Pizza, the Triple Crunch Mexican has a pretty similar taste, with even more of the good stuff.
Cheesy Jalapeño Mexican Pizza Review
With jalapeño slices sitting right on top, it's no surprise the snack gives off a spicy scent. Don't let that scare you off, because the pizza itself only has an ever-so-spicy kick to it. If you bite right into a jalapeño, make sure to have some water (or milk) nearby, because it can get pretty hot (or maybe I just need to work on my spice tolerance).
The Nacho Cheese Sauce makes this entree cheesier than a regular Mexican Pizza, but it also tricks you into thinking you're eating actual nachos for a second, which is never a bad thing IMO.
Similar to the Triple Crunch Mexican Pizza, the pizza sauce and tomato hide behind the other flavors, but that's not necessarily a bad thing. After all, you're here for the ~spice~.
Overall, if you're a fan of the Mexican Pizza, you'll probably like the new variations, too. Both innovations taste like a Mexican Pizza hack, and I'm here for it.
The Cheesy Jalapeño and Triple Crunch Mexican Pizzas will be available while supplies last through February 2023.