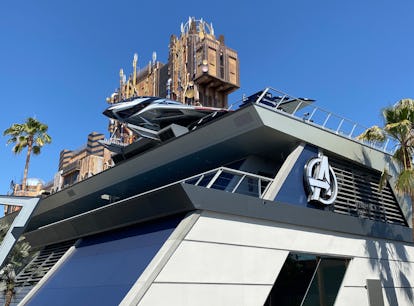 12 MCU Easter Eggs You Need To Look Out For At Disney's Avengers Campus
Courtesy of Disney Parks
It's time to assemble, because the Avengers Campus is officially open. The minute you step into the new land in Disney California Adventure Park, you feel like you've entered the Marvel Cinematic Universe, because you're surrounded in both obvious and hidden gems. If you're someone who's watched every single movie and all the Disney+ series in the MCU, you'll definitely want to be on the lookout for Easter eggs throughout the Avengers Campus.
The Disney Imagineers didn't miss a moment to add little nods for fans to find. You just have to know where to look. When you're not enjoying the larger-than-life food at the Ant-Man and The Wasp-themed eatery Pym Test Kitchen or having fun trying to beat your score at WEB SLINGERS: A Spider-Man Adventure, you and your friends can roam around the land looking for specific MCU callbacks to practically every character in the universe.
There are also non-MCU Easter eggs for Marvel Comics fans, like the gumball machine filled with acorn snacks for Tippy-Toe from Squirrel Girl hidden in the WEB Suppliers. If you're always on the lookout for hidden Mickeys in the park, there's one outside Guardians of the Galaxy - Mission: BREAKOUT! in the holographic splatters on the ground. For serious Disney fans, try to spot the nod to Heimlich's Chew Chew Train from A Bug's Land within the Spider-Man ride.
As you can tell, there's a lot to look forward to in Avengers Campus, so let's suit up and talk about the 12 MCU Easter eggs you need to see for yourself whenever you make the trip to Disneyland.
If you have plans for visiting the Avengers Campus sometime this year, it wouldn't hurt to schedule a little MCU movie marathon in between planning out your Marvel-inspired outfit and mapping out which Quantum-sized food you want to try first. You may just come across another hidden Easter egg that you would only get if you have the films fresh in your mind.
The Disneyland Resort will begin welcoming out-of-state visitors on June 15. You will still need a ticket and theme park reservation to get in, and follow all CDC guidelines.
The CDC recommends traveling only after you're fully vaccinated and your vaccine has become fully effective. If you're not fully vaccinated and must travel, check the CDC guidelines before you book. Check your destination's vaccination and testing requirements before you depart.