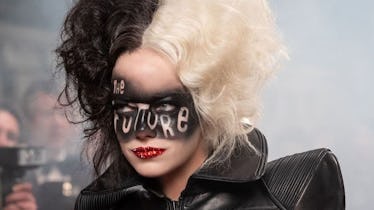 60 Disney Villain Quotes For All Your Perfectly Wretched Costume Captions
I live for captions. I *worship* captions.
Disney
Disney costumes are always popular around Halloween. You've got your famous princesses like Snow White, Cinderella, and Ariel; your lovable sidekicks like Olaf, Chip, and Abu; as well as your Pixar favorites like Woody, Nemo, and the Incredibles. While there are so many options to choose from, there's nothing like dressing up as a Disney villain on All Hallows' Eve to get you into the spooky spirit. That's why you should always have a selection of Disney villain quotes for captions that would pair perfectly with your Halloween costume on hand.
There's just something so good about being bad on Halloween. It's even better and more fun if you have a costume that requires you to have over-the-top hair, makeup, and/or a bomb outfit. The go-to Disney villain costume of 2021 — Cruella de Vil, thanks to Emma Stone's turn as the evil fashion mogul from 101 Dalmatians in Disney's live-action Cruella film — allows for a combination of them all. Cruella's eye makeup is to die for, and her red dress is de Vil-icious. Of course you can't forget her signature half-white, half-black hair, which can be recreated with a wig or temporary dyes. If you plan on dressing up as the iconic character, you'll need one of her equally iconic quotes from the animated Disney film for your Instagram pics or TikTok reveals.
Even if Cruella isn't in your plans on Oct. 31, there's also the Evil Queen, Maleficent, Ursula, and more to choose from. Whichever villain you choose, you don't want to be caught without one of their infamous lines when you post on the 'Gram. So, go on — make a wish and take a bite of these 60 perfectly wretched Disney villain quotes for your Halloween costume.