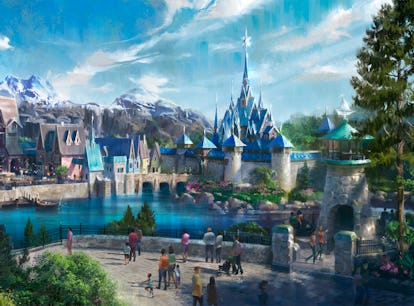 Disney's Frozen-Themed Land Is Opening In 2023 With New Rides
The Frozen roller coaster will transport you to Arendelle.
Courtesy of Disney
There are a lot of exciting things to look forward to for all the Disney Parks in 2023. For instance, each park around the world will be celebrating the Walt Disney Company's 100th anniversary, and many new attractions will be coming to both Disneyland and Walt Disney World in the U.S. One of the most exciting announcements is that Disney's Frozen-themed land opening this year at Hong Kong Disneyland. Disney has also announced a Frozen land for the Walt Disney Studios Park in Paris, so if the cold never bothered you anyway, you might want to get your passport ready.
ICYMI, Disneyland Paris has undergone some massive changes lately. They are currently celebrating their 30th anniversary, and Walt Disney Studios Park opened its version of Avengers Campus in summer 2022. While Disneyland Paris' version is very similar to the Avengers Campus at Disney California Adventure Park in the U.S., the brand-new Frozen land will be completely new and never seen before at any park. The Kingdom of Arendelle will also be a "short walk away from Avengers Campus," which means you can go from slinging web slingers with Spider-Man to singing "Let It Go" with Elsa. If you're wondering what's going to be in the new Frozen land and when it's opening, here's everything to know.
What To Expect In The Frozen-Themed Land At Disneyland Paris
The first thing you may notice entering the Kingdom of Arendelle will be Elsa's Ice Castle. It'll look just like the ice castle that she built during the "Let It Go" sequence, and "will stand at the top of a 131-foot-high snow-covered mountain," according to the Disney Parks Blog. Of course, this means it'll be a little more difficult to snap a picture right in front of Elsa's castle like it is to get a picture in front of Sleeping Beauty Castle at Disneyland or Cinderella Castle at the Magic Kingdom.
However, the land itself will fully immerse you into the world of Frozen. Along with the castle, you can feel like a citizen of Arendelle with all-new experiences that include a Frozen attraction. In the new Frozen ride, you'll get to go on a journey with some of your fave characters. There's a chance to meet those Frozen characters as well in a "royal meet and greet" that you can visit after you shop in the village and eat at a Norwegian-inspired restaurant. Perhaps they'll even have frozen fractals on the menu.
The Frozen-themed land will be connected to a Picturesque Promenade, which is also under construction at Walt Disney Studios Park. This promenade will have a gorgeous lake at the center and feature a brand-new table-service restaurant that will offer great views of the water and a chance to meet some fan-favorite Disney characters. At Disney's D23 Expo in September 2022, Josh D'Amaro, the Chairperson of Walt Disney Parks and Resorts, announced that this area will also be home to a new Tangled-themed ride.
No dates have been given for when the Kingdom of Arendelle will open at Disneyland Paris just yet, but construction is underway, so hopefully you'll be able to hang with Anna, Elsa, and Olaf soon.
What To Expect In World Of Frozen At Hong Kong Disneyland Resort
Unlike Disneyland Paris, Hong Kong Disneyland does have a date for when you can visit their version of a Frozen-themed land — World of Frozen. D'Amaro announced at Disney's D23 Expo that World of Frozen would be opening in the "second half of 2023." Recently, some cast members working on the construction of the land got to sign some of the Ice Magic that will be on display in Arendelle when it opens.
The World of Frozen will also include more attractions than the Disneyland Paris version, including the first ever Frozen roller coaster. The Wandering Oaken's Sliding Sleighs will be based on Wandering Oaken's Trading Post and Sauna from Frozen. Guests who went to the D23 Expo got a first look at the ride vehicle that will be used for the attraction, and it looks like the sleigh Anna and Kristoff use in the first film. Hong Kong Disneyland will also have its own version of the Frozen Ever After attraction, which is currently open at Walt Disney World's EPCOT in Orlando, Florida.
With so many exciting things to come, a trip to Disney doesn't seem like a bad idea for 2023. Hopefully, Disney will announce more specific dates soon so you can start looking at tickets.