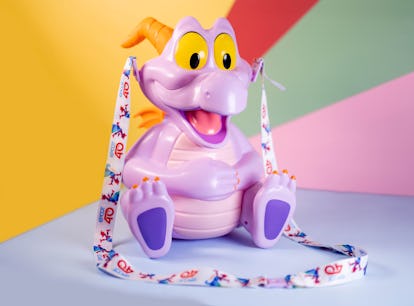 Disney's Figment Popcorn Bucket Is Finally Back For 2023
The viral product has a limited-edition strap.
Courtesy of Disney
Everyone's favorite purple dragon is back. That's right, Disney's Figment Popcorn Bucket is back for 2023, and you don't want to miss out on getting one this time around. For anyone who needs a little refresher, the Figment Premium Popcorn Bucket went viral last year when it made its debut at EPCOT's International Festival of the Arts. Lines for the coveted Disney merch were up to seven hours long and resellers were making a profit, listing the bucket for $115 to $200.
Following the initial Figment Popcorn Bucket craze last year, it may be easier to snag one in 2023. However, the 2023 Figment Popcorn Bucket is slightly different this year. Knowing Disney fans, you will likely still have to wait in a line. Luckily, there are some other new Figment offerings at the International Festival of the Arts this year to guarantee there is something Figment for everyone. For instance, Figment is the latest character to become a Disney Munchling. The brand-new and limited-edition Fruity Fig Bar Figment Disney Munchling will smell like berries, and be available for purchase at EPCOT and on shopDisney. The Figment Munchling may become the new viral Disney merch to cop this year, but if you're still trying to get the OG Figment Popcorn Bucket, here's where you'll be able to find it.
How To Get The Figment Popcorn Bucket
EPCOT's International Festival of the Arts begins Jan. 13 and will run through Feb. 20. Considering the Figment Popcorn Bucket sold out quickly last year, you'll want to go to Walt Disney World sooner rather than later. The Figment Popcorn Bucket will also only be available at EPCOT, so don't go looking for it at the Magic Kingdom or Hollywood Studios.
As mentioned, the Figment Popcorn Bucket for 2023 will be special this year with a new EPCOT 40th Anniversary strap. EPCOT celebrated its 40th anniversary last October, and since Disney likes to extend their anniversary celebrations, they're still honoring this major milestone. Some owners of the OG Figment bucket may even want to snag the new one just for the limited-edition strap. Luckily, there is a limit of two buckets per person each day and they'll be available at just one location.
The "Figment's Inspiration Station at the Odyssey: Art, Food, and Little Sparks of Magic" is not only a mouthful to say but the one booth that will be selling the Figment Premium Popcorn Bucket. If you're wondering how much the Figment Popcorn Bucket is at EPCOT, unfortunately, Disney hasn't revealed a price just yet. However, last year, the Figment bucket was $25. It'll likely be around that price range again, but the bucket does come with rainbow popcorn inside, so it's worth the splurge.
The Figment's Inspiration Station at the Odyssey: Art, Food, and Little Sparks of Magic is new to the festival this year and will include a few other Figment-inspired menu items. EPCOT is the unofficial Disney theme park for foodies and every festival is a chance to try some Insta-worthy and delicious snacks. Figment fans will want to try some colorful treats like a Fruit Pizza, Pop't Art sugar cookie with blueberry filling, or Rainbow Cake with freeze-dried Skittles. There are also some Figment-inspired drinks on the menu, like a Grape Smoothie with freeze-dried Skittles and a Rainbow Beer Flight.
The Connections Café at the front of the park will also have a Figment version of their infamous liege waffle. The waffle is served with colorful sprinkles and an edible Figment garnish on top. If you're looking for something more savory, the Mozzarella Fritta from the L'Arte di Mangiare booth in Italy looks like a fancy mozzarella stick on an artist palette filled with condiments that look like paint. It's almost too pretty to eat, but that's what Disney's International Festival of the Arts is all about.