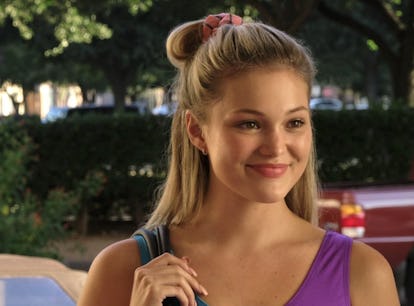 88 Cruel Summer-Inspired Group Chat Names Filled With '90s Nostalgia
Freeform
If Freeform's new series Cruel Summer leaves you totally confused week after week, you're not alone. The mystery has all the thrilling intrigue you used to love about Pretty Little Liars, another Freeform fave, but with some '90s nostalgia mixed in. You and your friends probably have a few theories going on in your group chat regarding who's telling the truth between Kate and Jeanette. Since the show has taken over your latest discussions, you might as well give it one of these Cruel Summer-inspired group chat names.
Cruel Summer is one of those shows you and your besties have to watch all together. You may even plan live watch parties, so you can text in real time as the twist and turns in each episode are revealed. Unlike other places where you have to avoid sharing too many #spoilers, you know you can spill all the tea with your besties in your friend group chat. Not only are you constantly discussing the latest reveals, you're also gushing over which '90s-inspired outfits you wish you could add to your closet right now.
You might even be using your group chat to plan a throwback '90s party this summer with tons of chokers and a nostalgia-filled playlist, or coming up with your own bucket list like besties Jeanette, Mallory, and Vince. For a chat that's all about Cruel Summer, you definitely want to give it one of these 88 Cruel Summer-inspired group chat names.
Team Jeanette
Team Kate
It's A Cruel, Cruel Summer
Warning: Cruel Summer Spoilers Inside
Our Summer Bucket List
'90s Babes
Villain Or Victim?
Let's Go Back To 1993
Whodunnit
Where Is Kate?
Everybody Has Secrets
We Believe The Mirror Theory
Jeanette Is Trash
On Tuesdays, We Watch Cruel Summer
Jeanette, Mallory, & Vince Forever
Let's Go To The Mall
Roller Rink Crew
Hide-And-Seek
Cruel Summer Secrets
Probably Watching Cruel Summer
Is It Tuesday Yet?
Wearing Chokers
Martin's A Creep
You Go, Girl
1994 Jeanette
Who Do You Believe?
Two Sides To Every Story
'90s Throwback
Jeanette's Necklace
Ben & Vince Forever
Who Is Annabelle?
Actually Trash
Did You See Her?
It's Like You're My Mirror
I Would Never Lie To You
Cruel Summer Mixtape
Kate's Been Found
1995 Is A Mess
Smells Like Team Spirit
You Oughta Know
Get Our Story Straight
Pretty And Popular
Copycats
Never Gonna Be Normal
A Friendship Stronger Than Mallory And Jeanette's
What's The Truth?
Cruel Summer Crew
Jeanette Did It
We Heart Jamie
Kate's Lying
Truth Is How You See It
Only Facts In Here
We Know Something
Everything I Ever Wanted
The New Kate Wallis
Watch Out For Jeanette
1993 Was A Better Time
Talk Of The Town
Don't Believe Everything
We Know The Truth
Cruel Summer Theories
Spoilers Ahead
Slap Bracelet Squad
Fanny Packs Forever
Cruel Summer With You
Cruel Summer Chat
A Smashing Good Time
Scrunchie Squad
Welcome To The Chatroom
Throwing It Back To The '90s
Please Don't Disappear
Your Secrets Are Safe Here
As If
Our Summer To-Do List
The '90s Mixtape
Listening To The Cranberries
Kate > Jeanette
Jeanette > Kate
Don't Know What To Believe
Just Some Mallrats
Rollin' With My Homies
Roller Rink Kids
Current On Cruel Summer
Let's Talk Cruel Summer
The Cruel Chatters
Cruel Crew
Piecing It Together
Summer Sleuths