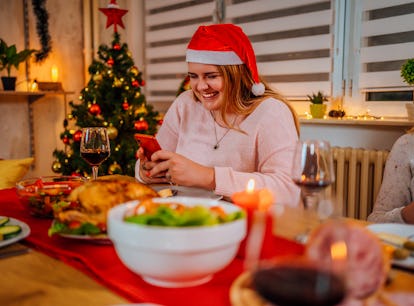 100 Christmas Group Chat Names To Make Your Convos Extra Merry And Bright
Yule love these Christmas puns.
LordHenriVoton/E+/Getty Images
The holiday season is underway, which means you've got shopping to do, decorations to put up, and parties to plan. In fact, your group chat may be making plans to watch Home Alone all together or get together for a white elephant gift exchange, which means your group chat is constantly going off. While you may have a group chat name that is an inside joke or punny friend phrase, this time of the year, you need these Christmas group chat names to keep your conversation on theme.
Your group chat is not only where you schedule hangs, but it's where you keep in touch throughout the day. It's also where you send adorable holiday photos back and forth, and share Christmas TikTok recipes you see on your FYP. For something so important that you check it every time you unlock your phone, you definitely need Christmas group chat names. The right name can set the mood of your crew. These 100 Christmas team names can even be used for your Slack channels and trivia nights. You'll also find some group chat names for Secret Santa or White Elephant group chat planning if that's all your chat is doing right now. If you're way of staying in touch during the holiday season is to share snaps back and forth, you could even adopt a few of these as your Christmas private story names.
The possibilities are endless. You just need to select which of these Christmas group chat names fit your reindeer crew the best.
The Jolly Hollies
Christmas Cookie Stans
Tree-mendous Friends
Lit Friends
All Of The Other Reindeer
My Reindeer Friends
Dashing Throw The Bros
My Grinches
Resting Grinch Faces
We Sleigh
Myrrh Friend Hangs
Your Presents Is Requested
Snow Way
The Jingle Bells
Yule Love Us
Santa's Helpers
Sleigh Belles
Sugar Plum Fairies
Noel-It-Alls
Sleigh My Name, Sleigh My Name
Just Pine
Most Wine-derful Crew
All The Jingle Ladies
Mistle-toast To My Friends
Love You From Head To Mistletoe
Love At Frost Sight
Feeling Santa-mental
Rebels Without A Claus
Let's Spruce It Up
Great Chemis-tree
Snow Much Fun
Never Fir-get You
Ice To Have Some Friends
Candy Cane Cuties
Be Claus I Love You
Wrap It Up
Enjoying The Festivi-teas
There's Snow Place Like Here
A Bunch Of Whos
License To Chill
Birch, Please
Fir Sure Friends
Lit AF
Watts Up
It's Snow-time
Peppermint To Be
Takes One To Snow One
Snow Matter What
Ready, Set, Glow
Check Your Elf
All Aboard The Polar Express
We Snow The Drill
Best In Snow
My Friends Are Snow Joke
Elves On Shelves
Say It Ain't Snow
Fir-ever Friends
Snow Angels
Whole Lot Of Glove
Getting Caroled Away
Love Actually
Team Naughty
Team Nice
I Glove You
Icy What You Did There
Taking Elfies
High Elf-esteem
Sleigh What?
Fab-yule-ous
Peppermint Twists
Gingerbread House Party
A Jolly Good Time
Grinch Gang
Catty Canes
Un-fir-gettable Friends
Orna-meant To Be
Drinking Reinbeer
Love You Deerly
You Bake Life Better
Meowy Christmas
Dachshund Through The Snow
Wrap Artists
Making Spirits Bright
My Merry Mates
Berry Good Friends
Red-y For It
Fir Real Crew
Santa Claws
The White Elephant In The Room
Having A Jingle Ball
December To Remember
The Holidaze
Not-So-Silent Chat
The Holiday Hangout
The Naughty Or Nice List
Smart Cookies
Sprucing Things Up
Wreath It And Weep
A Penny Fir Your Thoughts
Always Merry And Right