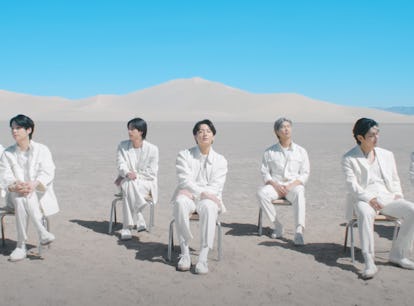 6 BTS Music Video Filming Locations In California You Can Visit IRL
See where they filmed the Grammy-nominated song "Yet To Come."
Despite announcing their hiatus last year, BTS is still up for three Grammy nominations at this year's awards show, including for their "Yet To Come" music video. Rumors that BTS filmed "Yet To Come" while in Las Vegas for their Permission to Dance on Stage shows proved to be true when "Yet To Come (The Most Beautiful Moment)" premiered in June. However, this isn't the group's only music video shot in the U.S.. There are enough BTS music video filming locations in California alone that you could gather your ARMY friends and plan a trip around them.
It's too soon to know if any members of BTS will actually be present at the 2023 Grammy Awards on Feb. 5. However, they're not only up for best music video for their song "Yet to Come," but also best pop duo/group performance and album of the year, as well for their collab with Coldplay on "My Universe." With three noms, some fans are hoping at least someone from BTS shows up to represent and walk the red carpet. You know they'd make the best dressed list.
The ceremony will take place in Los Angeles this year, which is close to quite a few iconic BTS music video filming locations. If you happen to be in town or planning to visit SoCal this year, you may want to schedule in a visit to a few of these locations to recreate your fave BTS videos.