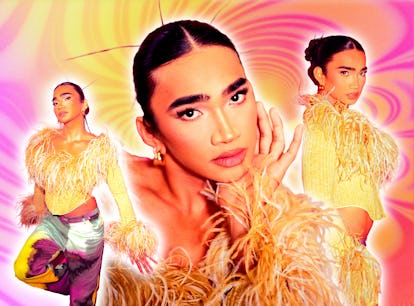 Bretman Rock, Former Beauty Influencer, Is Now A Self-Care King
The content creator is focusing on his mental health, $$$, and finding the perfect pair of bell bottoms.
Lindsay Hattrick/Elite Daily; Kevin Ostajewski
Bretman Rock's Instagram profile may read "Doing the least, but looking the most," but that's actually a very humble introduction. While the 24-year-old content creator's looks are definitely fab, his calendar is far from empty. In fact, he's a certified multi-hyphenate who recently added a new title to his resume: global ambaddiesor for "buy now, pay later" (BNPL) financial service Klarna, a role that afforded him the opportunity to star in a commercial with the Y2K queen herself, Paris Hilton, and become the self-care king he was born to be.
Anyone who's followed the social media star's career since his Vine days knows that bumping shoulders with celebs has become commonplace with Rock consistently reinventing himself. In 2021, the content creator announced he was moving away from the beauty industry to focus on other areas of his life that bring him joy. Earlier this year, he released his first memoir, You're That B*tch: & Other Cute Lessons About Being Unapologetically Yourself, which perfectly showcases both Rock's humor and self-assuredness. These days, part of being unapologetically himself includes being in his "plant era," songwriting, and finding the perfect wardrobe staples to channel his personal early aughts vibe: Tyra Banks in Coyote Ugly.
Below, the official baddie discusses working alongside Paris Hilton (hint, it was a "f*cking fever dream"), why being alone is a necessity for his perfect day, and how he plans to secure last-minute Beyoncé Renaissance Tour tickets — you know, in the name of self-care.
This interview has been condensed and edited for clarity.
Elite Daily: What does being Klarna's global ambaddiesor entail?
Bretman Rock: It means that I'm the baddest b*tch that Klarna could ever f*cking find. My relationship with Klarna started a long, long, long time ago. It took a little bit of flirting to finally be given the title of ambassador, but we're here now, and it's such an honor. Klarna has me working day and night. We went to Sweden together, and shot a commercial with singer Felix Sandman.
ED: Did you do anything fun while in Sweden?
BR: I made a jingle for Klarna with Felix. He did the lyrics. I'm not a lyricist; I'm just a performer. We had to get inspiration from the locals there, so I went to Gammelstaden and interviewed people. I would ask, "What are you listening to right now?" I felt like a real TikToker or reporter. That was the highlight of the trip. Also, Sweden is so clean. I feel like I could have eaten my lunch off the ground.
ED: That's very funny. What was it like getting to work alongside Paris Hilton for Klarna?
BR: I still refuse to believe that I shot a commercial with Paris Hilton. I wouldn't be surprised if that was an AI rendering of me giving her the ice cream. But no, it was really fun and she was so sweet. I got to touch all of her sunglasses, and her dogs were the sweetest things ever.
ED: Speaking of Paris, what are some 2000s trends that you want to come back in style?
BR: Did you watch Coyote Ugly? The Western Y2K style, like how everybody's mood board was for Coachella, needs to come back because I have so many vests and bell bottoms I want to wear. I know they're not necessarily a Y2K trend, but cowboy boots are really cute, too. I always wished I was Tyra Banks in Coyote Ugly. I'm also really obsessed with the whole metallic alien-ish thing, and how we were obsessed with the future in the 2000s.
ED: That actually kind of sounds like what I've been seeing as outfit inspo for Beyoncé's Renaissance Tour. Are you going?
BR: Don't trigger me right now. I do not want to talk about it. When they say you snooze, you lose — yeah. Why would Beyoncé make the island b*tches in Hawaii wake up at the crack of dawn to get these tickets? I could not wake up on time, and tickets were gone. Gone like the wind. But I do believe in the Beyoncé gods out there. I want to go, and they might be able to pull some strings. If anybody's listening...
ED: I think it's possible. Going back to Y2K trends, what are some that you want to stay in the past?
BR: Before anybody says I'm against it, I'm not. This is just a Y2K trend that's not for me. I cannot do the skinny brows. I'm sorry. I was born with such thick brows, and I've tried all the beauty filters on TikTok that show you what you would like with skinny brows. I even tried gluing them just to see what I would look like, and it does not look good. I look like all of my aunties in the 2000s. I love when I see people who rock the skinny brows and look good doing it, because I know damn well I could never.
ED: What are your current style must-haves?
BR: My stylist, Brian Meller, and I are really into skirts right now. I am in my skirt era. Even in the gym, I have all these Nike skirts. I would also love to get into more bell bottoms. I keep bringing it up because I cannot find a good pair. It's always either too loose at the top and too flared on the bottom. It's never perfect for me. I need to find a good bell bottom so that I can make it my staple.
ED: You've said before that you're actually pretty good with money. How does financial wellness impact your overall well-being?
BR: Having financial literacy is a really great power. I grew up very broke. When I used to make all my money for the first time on social media, I was spending it left and right because I just didn't know what to do with it. The financial literacy that my parents taught me is so different from the financial literacy I eventually learned from my business managers. It helps me so much with my well-being, because I truly don't even have to worry about losing money or return on investments.
ED: You pivoted away from the beauty community in 2021 because you said it was a "sorry industry." Was that a difficult transition?
BR: Not at all. It was such a blessing for me to have kind of withered away from the beauty industry because it forced me to create content that actually made me happy. It pushed me to think outside of my comfort zone, and it helped me identify myself, not just as a content creator and beauty guru, but as an overall entertainer, period. Lockdown helped me realize that I can entertain the world with whatever I am into at the time. Now, I'm back in my plant era, and people love it. I don't have to box myself into one industry because I'm entertaining as f*ck, and I mean that in every Leo way possible.
ED: What are some other ways that you prioritize your well-being?
BR: I'm very selfish with my time now. I don't feel like I have to travel to L.A. every week to do work. I could just be at home and make my content here in Hawaii. I could be very superficial and tell you like, "Oh, I meditate, girl, and I do my cold plunges," but what helps me the most with my well-being is connecting. I think connecting with my ancestors truly has helped me tremendously. I grew up with a "witch" grandmother. People think planting just helps me pass the time, but whenever I'm with my plants, it helps me connect with her. I make my own essence from the flowers that grow in my garden, and I think my grandma, in a way, helps me grow them. Connecting with my ancestors and my roots, like cooking more with my mom, helps me stay grounded.
ED: Walk me through your dream self-care, treat yourself day.
BR: A day where I'm f*cking alone, honestly, with nobody's energy around me. That's my dream. I wake up at the crack of dawn, 6:30 a.m., beating the sun, because my grandmother believes that it's the best light that you can meditate with. I would start off with my light meditation with the sun, then take my dogs out, tend to my garden a little bit, use a face mask, and watch my movies. That's like my dream self-care wellness day, alone with my animals.
ED: What are some of your go-to comfort movies?
BR: I love a good chick flick. Any Nicholas Sparks movie is always the call, especially on a rainy day. I love feeling like I'm a straight white woman with a man. I love that fantasy and drinking wine.
ED: You just came out with your first book, You're That B*tch. Describe some ways that you're unapologetically yourself during your ideal day.
BR: I don't even think about it. When I walk in the gym, when I walk out of the gym, when I walk in any door, I am 100% Bretman Rock. Never dimming down myself for anybody is how I truly am 100% myself. As someone who is Asian and was always taught to put your head down, not be the loudest person in the room, and be obedient, I say f*ck that sh*t. Sometimes, you really just have to be the loudest b*tch in any room you walk in. You've just got to be Bretman Rock.