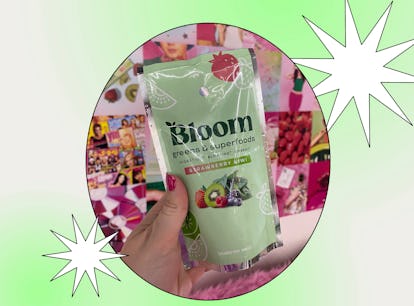 I Tried Bloom Greens' Strawberry Kiwi Flavor & It's So Nostalgic
Alix Earle's fave green powder has a Y2K-inspired option now.
Rachel Chapman/Elite Daily
We may receive a portion of sales if you purchase a product through a link in this article.
Anyone who has scrolled through TikTok has definitely come across Bloom's Greens & Superfoods. The viral supplement powder is a fave among influencers Alix Earle, who turn to Bloom when they're feeling bloated or just need some veggies in the morning. The trendy greens — which also have been made into matcha cookie dough — come in a variety of fruit flavors, like mango, coconut, and berry, but Bloom Greens just released a new strawberry kiwi flavor that I got to try at their headquarters in Los Angeles.
Not only was I invited to taste and review Bloom's new Greens & Superfoods, but the event was Y2K- themed. As a Paris Hilton and butterfly clip-loving girlie, I was so here for the strawberry kiwi flavor, which the Bloom team said was inspired by those fruity Lip Smackers you kept in your baguette bag at all times. At the party, they even served the strawberry kiwi-flavored Greens & Superfoods in Capri Sun-like pouches, which really took me back to those school lunch days.
Unfortunately, you won't be able to find the Greens & Superfoods pouches in stores, but the Bloom's strawberry kiwi is available now online. All you need for your glass of water is one scoop of the greens, which has a blend of fruits and vegetables like broccoli, spinach, blueberries, and apples.
Bloom Greens & Superfoods Strawberry Kiwi Review
After seeing all the hype around Bloom Greens, I couldn't wait to try it for the first time. While the bar at the Y2K party included some cocktails with the strawberry kiwi greens mixed in, I decided to go with just the juice pouch at first to really taste the new flavor. I immediately understood why the Bloom team thought of the early 2000s. The strawberry kiwi reminded me of when that was the go-to flavor in elementary school. It was like sipping on those strawberry kiwi Capri Suns I used to enjoy with my peanut and jelly Uncrustable. The strawberry kiwi flavor was sweet, but not too sugary, and I couldn't taste the veggies at all.
The best part was that the powder dissolved well in the water, so it wasn't chalky like some supplements can be. The greens also blended in nicely with the cocktails they were served in. The menu included a Butterfly Clip drink with tequila, strawberry simple syrup, lime, and the Bloom Strawberry Kiwi Greens with a kiwi slice, as well as a Velour Tracksuit drink with vodka, kiwi simple syrup, lime, club soda, and Bloom Strawberry Kiwi Greens. Both speciality cocktails were so delicious, and even though the powder was added on top without being mixed in, it quickly dissolved.
Adding greens to a cocktail is a genius idea I never thought of before, so consider me a fan who totally gets the hype now. Pretty soon, I'll be just like Earle and drinking a glass each morning to kick off my day.