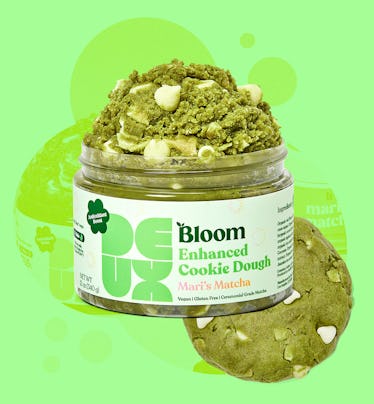 DEUX x Bloom Matcha Cookie Dough Review Of This Unique Dessert
Talk about a viral collab.
Elite Daily; DEUX
We may receive a portion of sales if you purchase a product through a link in this article.
In Elite Daily's series Chef's Kiss, we taste the latest food and drink trends to help you figure out which ones you definitely don't want to sleep on. In this piece, we taste the new DEUX x Bloom Matcha Cookie Dough, a collab from two TikTok-viral brands, to see if it lives up to the hype.
It's no secret TikTok is the best place to discover products that skyrocket to viral status. Chances are you've seen people start their mornings on the app with one brand in particular. Bloom Nutrition, specifically its matcha and powdered greens, continuously pops up in TikToks (the tag #bloommatcha has nearly 64,000 views on TikTok as of Jan. 27). But the company is ready to expand past your morning routine: Vegan cookie dough company DEUX and Bloom announced a partnership on Jan. 18, and DEUX x Bloom Matcha Cookie Dough is the perfect matcha, er, match, for foodies who want their sweets with a serving of antioxidants. You know what to expect from cookies and milk, but cookies and matcha is a whole new world — so this DEUX x Bloom Matcha Cookie Dough review breaks down whether this dessert really satisfies your sweet tooth.
DEUX and Bloom refer to Matcha Cookie Dough as a form of "edible wellness" in a press release shared with Elite Daily, supplementing the treat's creamy matcha and oat flour base with white chocolate chips and coconut flakes. Matcha tends to have a polarizing, earthy flavor that people either love or hate, and I'm definitely on the pickier side when it comes to desserts made with it. Sure, matcha can help balance out extra sweetness, but it's hard to avoid the distinct matcha flavor overpowering everything else. But there are some benefits that make matcha hard to ignore. In addition to giving you a natural pick-me-up without jitters or anxiety, the antioxidant-rich ingredient also supports heart and brain health and has natural de-bloating properties — an added bonus for any food, let alone a dessert.
So, does the cookie dough really taste like a "coconut milk matcha latte in a jar," as it's advertised on DEUX's website? While the DEUX x Bloom cookie dough itself didn't look like the most appetizing treat, the limited-edition collab surpassed my expectations for what a "healthy" cookie dough should taste like.
DEUX x Bloom Matcha Cookie Dough Review
Peeking into the jar, the DEUX x Bloom Matcha Cookie Dough did not look inviting. It reminded me of swirled wasabi, and the mossy green color and earthy smell weren't exactly calling my name. The cookie dough's texture was a little denser than the lightly whipped formula I'd expected based on the description online.
Fans of matcha will appreciate how lightly sweetened the matcha and oat flour base is. It's definitely not too sugary, and the matcha flavor isn't too strong, which is sometimes an issue with matcha desserts — they either overpower the matcha with sugar or don't sweeten it enough. If you're not the biggest fan of matcha, make sure to get scoops of the white chocolate chips and coconut flakes with every bite to enhance the treat. While big cookie dough stans might be a little disappointed by the collab's vegan and gluten-free formula — it's definitely not as sweet as your typical cookie dough, plus the texture is a little different — the matcha flavor was pretty nuanced and paired well with the white chocolate as well as the oat flour.
IMO, taking the 7-8 extra minutes to bake the Matcha Cookie Dough into actual cookies is the best way to enjoy the collab. While the raw version might come up a little short for fans of non-vegan, non-gluten free cookie dough, I devoured the cookie versions and would easily make them again. The melted white chocolate chips and coconut flakes really came through and added extra sweetness and texture to the matcha base.
Overall, if you're looking for an alternative cookie dough that still satisfies your sugar cravings, this DEUX x Bloom treat might be one to try.