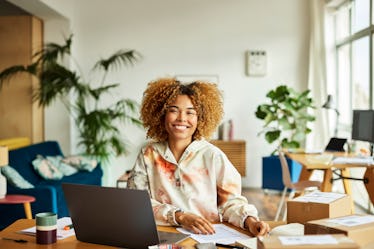 These Black-Owned Etsy Shops Will Take Your Home Decor To The Next Level
Grapefruit candles and geode planters starting under $10.
Morsa Images/DigitalVision/Getty Images
On a mission to spruce up your space? Source decor that'll make your space feel like a sanctuary, while also supporting underrepresented small business owners. Baskets, adorable coasters, and eclectic prints from thrift stores are always fun additions, as well as pottery or trinkets you may find at an outdoor market. Shopping the handcrafted goods from one of these Black-owned Etsy home decor shops, however, will elevate the look of your home and give it the magazine-like vibe you've been looking for.
Not only will you find one-of-a-kind pillows and geometric furniture to fill your rooms, but you'll also show your continuous support for these small Black business owners every time you hit "add to cart". The talent, vision, and stories of these creators, in particular, are often overlooked since they're part of marginalized communities. So, in the midst of redecorating, look into these independent creators and see how their pieces can bring new life to every corner of your home.
Lovingly made items from these Etsy shops are sure to make all time spent in your space beautiful. For example, mindthecork sells cork planters that'll dress up the succulents you have on your desk. NonilyStudio is a great place to shop art prints for your home office that are inspirational, well-designed, and timeless. Creator and seller Kwadwo of Craftedglorydesign builds custom end tables that you'll probably want to style next to your bed as a home for your favorite books and candles.
These few items just scratch the surface of what these shops have to offer, which is why we've gathered up a myriad of shops for you to check out while on your home redecorating mission. Unique pillows, gorgeous wall hangings, and iridescent geode planters are all included below, along with deets on the Etsy sellers who you should have on your radar.
We only include products that have been independently selected by Elite Daily's editorial team. However, we may receive a portion of sales if you purchase a product through a link in this article.
This article was originally published on