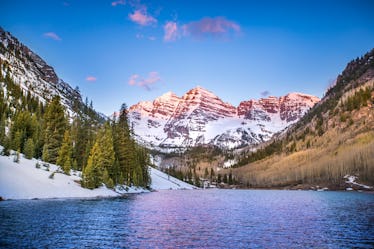 10 Dreamy Places For Winter Proposals In The US That Are Snow Romantic
Say "yes" in an unforgettable winter wonderland.
Shutterstock
Whether you're popping the question this winter or you're getting ready to say "yes" to the love of your life, you know something romantic is on the horizon. Soon enough, you'll be down on one knee, or slipping a ring onto your finger while professing your love through all the happy tears. When planning the perfect proposal, you also want to think about the perfect destination to pop the question. Maybe it'll happen when you're visiting one of the dreamiest places for winter proposals in the United States, which will have you exploring your love story amongst the snowflakes.
Chances are you've been dreaming of the perfect destination for your winter proposal. Maybe you'd wake up at a ski resort in the mountains to breakfast in bed, and your SO would pull out a box with a sparkly piece of jewelry inside. They'd ask you to be theirs, and you'd reply with a happy "yes." The rest of the morning would be spent cuddling, on FaceTime family and friends, and posting pics on social media announcing you're engaged. As always, make sure to follow the Centers for Disease Control and Prevention (CDC)'s most recent travel guidelines as well as any local health guidelines.
Once you're in the perfect winter destination, you'll spend a few days being swept off your feet by the epic #views and quaint coffee shops in the area, and maybe share a dance with your love in a local bar like they do in the movies. If that sounds snow romantic to you, then check into one of these 10 places for winter proposals in the United States right away for inspiration.
The CDC recommends traveling only after you're fully vaccinated and your vaccine has become fully effective. If you're not fully vaccinated and must travel, check the CDC guidelines before you book. Check your destination's vaccination and testing requirementsbefore you depart.
This article was originally published on