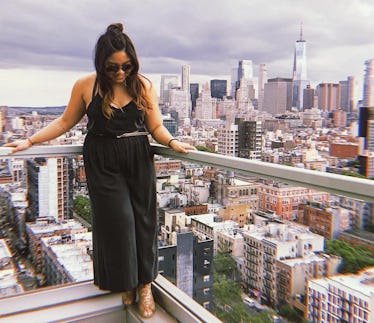 How To Explore NYC On $100 & Still Have The Time Of Your Life (Because It's Possible)
It's no secret that New York City can be ridiculously expensive. Going out for drinks can make your wallet want to cringe, and the variety of trendy restaurants — although they're delicious — can put a serious dent in your bank account. But when all is said and done, there is only one New York City. And luckily, there are still a ton of things you can do in The Big Apple that won't break the bank. Here's a little guide on how to explore NYC on $100 so that you can have the time of your life.
Whether you're coming into the city for a day trip or are a resident who's trying to find fun activities, you can definitely find things to do that'll ensure a packed itinerary that won't cost you too much money. You and your friends can split one of those rainbow cakes at Flour Shop (and take pics in front of the rainbow mural), walk across the Brooklyn Bridge, or see a cabaret concert at 54 Below.
I'm pretty sure it's impossible to run out of things to do in NYC, even if you're pinching pennies. Here are a few of my favorite spots to hit up when I'm on a budget but want to have some memorable NYC fun. Pick and choose to create the ultimate itinerary that's $100 or under.