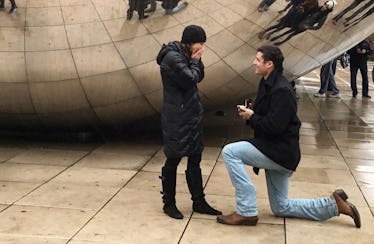 These Thanksgiving Proposal Stories Are Unbelievably Heartwarming
Courtesy of Caroline Myers
When you imagine the Thanksgiving holiday, the first thing that comes to mind might be delicious food, extended family, or fall decorations. You probably don't immediately think of marriage proposals — but you guys, let me tell you something here. Thanksgiving proposal stories are totally a thing, and they're actually extremely endearing, cute, and popular. I mean, what better time to pop the question than during a time of year filled with gratitude and celebration?
Maybe Thanksgiving works so well as a proposal holiday because people are at home with their families, or on a break from their typical work week routines. It's a day dedicated to showing appreciation for what you have, so it only makes sense that couples would choose it as the ideal occasion to get engaged. If you want to include your family in the proposal, you don't have to plan a whole separate gathering for everyone to attend. The people you love are already there in one place! And if you're out doing a Turkey Trot or volunteering in your community, you're already in the spirit of joy and giving.
To further convince you that Thanksgiving proposals are where it's at, I've compiled this collection of proposal stories that all went down during the holiday of gratitude. They are truly touching, and they might just make you reframe your perspective on Thanksgiving. Sure, the pumpkin pie is great and all — but also, hello, romance!