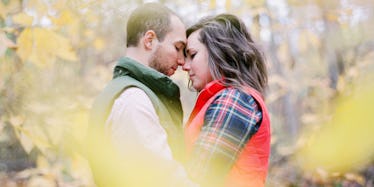 Here's What To Consider Before Getting Engaged During The Holiday Season
When you think ahead to your engagement, you probably want it all to go perfectly. You want to look back on the occasion as one of the best days ever, when you either proposed or said "Yes!" to the love of your life. You wonder, should you get engaged on Thanksgiving, Christmas, or New Year's Eve to make the holiday even more special? Adding a proposal to the holiday can seem ideal, since you're already surrounded by friends and family, likely already dressed up and picture-perfect ready, and in that festive, happy, holiday spirit already.
I spoke to some young women who did get engaged on holidays to see whether or not they'd recommend it to others. These women got engaged on Thanksgiving, Christmas, and New Year's Eve, and each had their own experiences to share.
Courtney, 24, didn't initially see getting proposed to on a holiday in her engagement dreams, but she knew her family had to be with her to celebrate afterwards.
"My fiancé proposed right around sunset time on New Year's Eve, and my family was there waiting for us with champagne," Courtney tells Elite Daily. "We celebrated, took pictures, had a fun dinner all together, and then went out to dance, watch fireworks and countdown to midnight."
"In the past, New Year's was never my favorite holiday, as it is often over hyped as the 'greatest night of the year,' when in reality, it never is," she says. "However, now I love New Year's, because I can always look back on what a fun celebration I had with my fiancé and my family that night — and it will always be 'our' holiday!"
For Courtney, it made a neutral holiday to her even more special, and something to remember and celebrate every Dec. 31 moving forward.
Nicole, 24, got engaged over a Thanksgiving break during college. She recommends this to college coupes considering engagement so you can "enjoy every moment of it."
"[My husband] chose the day before Thanksgiving because our family and friends are so important to us and that was the holiday that year in which he could get all of our family and most of our friends together," Nicole tells Elite Daily. "He proposed at his house privately, and once I said 'yes!' all of these family members and friends popped out to join us in celebrating."
Danielle, 26, experienced a magical New York City engagement on Christmas at Rockefeller Plaza. The only con she says? That many other people had the same romantic idea.
"Other people were getting engaged at the same time," Danielle tells Elite Daily. "People were getting engaged [five minutes] before and after us."
But, she says, her family was in the city with her, and they got to celebrate together.
With the above wisdom in mind, if you're debating whether or not to get engaged on a holiday, you have to weigh the pros and cons. If your proposal happens during a holiday when you're hosting or helping cook or clean, you may be distracted and overwhelmed. But, like the women above said, you'll likely be surrounded by family and have those you love right there with you. Ultimately, it's up to you how you say "yes."