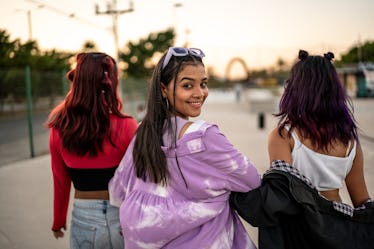 How The April 2023 Full Pink Moon Will Affect Every Zodiac Sign
Prepare to be bitten by the love bug.
"Flirtatious" is springtime's middle name. Flowers are blooming, bees are buzzing, and chocolate-covered eggs are being released (and, of course, eaten). Despite how peaceful it sounds, there's so much action, excitement, and initiation bubbling beneath the surface. As the sun continues through the cardinal fire sign of Aries this month, practically everyone's eager to take matters into their own hands and push new, dynamic ventures forward. While your plan may be to embark on these new pursuits solo, the April 2023 full Pink Moon is inviting all zodiac signs to take a closer look at the ways they bond and build relationships with others.
The upcoming Pink Moon will illuminate the sky in the cardinal air sign of Libra, bringing the need for socialization, connection, and interdependence into your world. As this full moon unfolds, every sign will be called to balance the desire to single-handedly achieve big accomplishments with the longing for mutual support, camaraderie, and equality. Being No. 1 may sound sweet, but it feels much better to be surrounded by people who were there every step of the way once you make it to the top.
What Is A Pink Moon?
A Pink Moon is the first full moon of the spring season; while not *actually* pink, it may have a warmish hue to it, depending on what time of day you're able to catch a glimpse of it. Peter Geiger, editor of Farmers' Almanac, previously told Elite Daily that it's referred to by the "Pink Moon" nickname "because the first flowers of the springtime tend to be pink" — more specifically, the Northeastern wildflower called moss pink, or moss phlox, which would begin to bloom in the spring.
When Is The April 2023 Full Pink Moon?
On April 6, 2023 at 12:35 a.m. EST, the full Pink Moon will reach its peak luminance. Although it will go exact in the middle of the night for many time zones, you can still catch a glimpse of the full moon the evening before, on April 4, as the sun sets, giving it a beautiful glow.
Here's what every sign can expect from the April 2023 full Pink Moon:
Aries (March 20 - April 19)
During the full Pink Moon on April 6, your focus will shift away from your personal projects and toward your relationships. Although the full moon will have you leaning out of your usual impulses, it promises to reveal important partnerships and collaborations. Now is the time to join forces, rather than taking the lead. There's strength in numbers, Aries, and if support is being offered to you, there's nothing wrong with accepting it.
Taurus (April 19 - May 21)
Your daily routines and habits will be highlighted on April 6, as the full Pink Moon in Libra takes place in your sixth house. For you, it's important to find pleasure in the mundane, and this is a day to consider how you create space for comfort and ease in between your daily responsibilities. Productivity can be enjoyable, Taurus, whether it's listening to music as you shop, or inviting friends over to keep you company while you spring clean. This full moon will reveal the simple ways that life can be enjoyable. Treating yourself just got a whole lot easier.
Gemini (May 21 - June 22)
On April 6, the full Pink Moon will shed light on your hobbies, passions, and leisure activities. As a fellow air sign, you appreciate the importance of social connection, and this full moon will highlight the different ways you gain inspiration from the people around you. Go on a date, attend a party, or engage in a creative pursuit — anything that places you in environments with people you click with. Enjoying yourself will come easy.
Cancer (June 22 - July 20)
As the full Pink Moon in Libra takes place, the pleasures of your domestic habitat will be illuminated, proposing that you allow yourself to connect and recharge your batteries. You're fueled by spending time with your loved ones from the comfort of your own home, so this is a favorable time to spend with relatives or roommates. For you, home is not only where the heart is, but it's where you like to be surrounded by your favorite people.
Leo (July 20 - Aug. 21)
The full Pink Moon in Libra on April 6 will shed light on your current thoughts and perspectives, prompting you to connect and join forces with people that can relate to you. If you've been looking for like-minded individuals, this day looks promising, so be sure to seek out social interaction. You may find that you've reached the end of a study, skill, or topic you've been analyzing, and it's an optimal time to share your discoveries with the people around you.
Virgo (Aug. 21 - Sept. 22)
This full moon will center your relationship to your personal resources, values, and belongings, bringing the ways you establish balance and coordination here. You're always willing to share your earnings with loved ones, but it's important that you leave enough for yourself. If you've been giving away too much of your time, energy, or assets, this will be the time to collect, recalibrate, and ensure that you're fully enjoying the fruits of your labor.
Libra (Sept. 22 - Oct. 21)
On April 6, the full moon in your first house will place you at the center, bringing your need for partnership, balance, and togetherness into focus. If there's any day to flirt, Libra, it's during the Pink Moon, so go ahead and put yourself out there. For you, connection is essential, and this lunation will bring your innate desires to the forefront. Just be sure not to overemphasize partnership so much that you neglect yourself and your needs.
Scorpio (Oct. 21 - Nov. 22)
On April 6, the Libra full moon will shed light on your current habits, routines, and rituals. As someone who prioritizes plenty of self-discipline, you're used to taking your daily duties pretty seriously, but the upcoming Pink Moon will be the moment to quietly regroup, without exerting too much energy. This full moon is bringing the ways you prioritize self-care into focus, regardless of whether you feel like you've earned it. So kick up your feet and relax. Your usual grind can be put on pause now.
Sagittarius (Nov. 22 - Dec. 20)
You'll feel the need to socialize and connect with others on April 6, as the full Pink Moon takes place. As a community-focused individual, you care deeply about curating a warm and friendly space for your friends, and the upcoming full moon will shed a light on how you engage in these intimate relationships. Whether you're putting the finishing touches on a group project or hosting a party, it's a fortunate day for bonding with your inner circle.
Capricorn (Dec. 20 - Jan. 21)
The Libra full moon on April 6 is spotlighting your career and professional world, specifically the work you've been doing with a colleague. If there's a project that's recently come to completion, don't hesitate to put it out there for the world to see during the Pink Moon. There's nothing wrong with wanting recognition, Capricorn. You deserve it.
Aquarius (Jan. 21 - Feb. 20)
The Libra full moon on April 6 will highlight the ways you connect with others through shared beliefs and perspectives, inviting you to engage in conversations that bring you closer to those around you. Though you're usually someone who enjoys having unconventional views, the Pink Moon will illuminate the ways you crave unity through your personal philosophies. It's a fortunate day to spend around like-minded people who are less concerned with forcing their opinions on you, and more interested in finding common ground.
Pisces (Feb. 20 - March 20)
You'll acknowledge your need for balance and harmony in your intimate connections with others on April 6, as the Pink Moon takes place. Take a look at how you're giving away your time, efforts, and energy. Are the scales balanced? If not, it might be time to make some adjustments. As someone who cares about the equal treatment of others, fairly, you must receive the same treatment in return. This could also be a time to take a look at some of your financial obligations to ensure that things are equitable and fair.