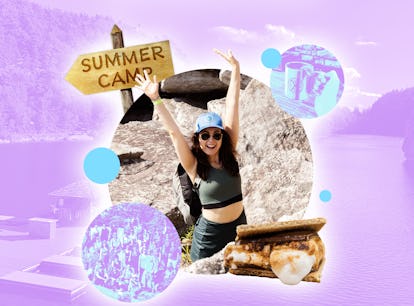 I Went To Adult Summer Camp For A Weekend In Upstate New York
S'mores *and* cocktails? Camp Rock could never.
I didn't grow up going to summer camp. As a kid, I was very happily a homebody, and by the time I started getting jealous of my friends who went to camp every June, I felt like I was too old to participate. That means I've never gotten to live out my fantasy of having a camp romance à la Mitchie and Shane in Camp Rock, discover my long-lost twin like in The Parent Trap, or make cabin besties who would later become my long-distance pen pals. Too bad summer camp for adults isn't a thing... or so I thought until recently.
When Tincup Whiskey reached out to invite me to the brand's Mountain Mixer event earlier this summer at Mohonk Preserve in New Paltz, New York — billed as an "adult summer camp" — I jumped at the chance to be a nature girl for the weekend. The daylong event was bookended by a two-night stay at Mohonk Mountain House, a Victorian castle resort in the Hudson Valley that's essentially an 1800s version of Hogwarts. After a *very* hot summer in New York City, I needed to GTFO for a weekend escape. Thankfully, this little outdoorsy getaway was just the retreat I needed.
From archery lessons to rock scrambling, we fit in a lot over the course of 48 hours. Here's a detailed breakdown of our itinerary, including tips for how to DIY your own summer-camp-inspired weekend.
Friday
1 p.m.: Bus ride from Brooklyn
Since it was a summer Friday afternoon, the traffic leaving NYC was brutal, so what was supposed to be a two-hour bus journey with the other journalists ended up taking almost four. We made the most of it, though — Jason Druckenmiller, the head of advocacy for Proximo Spirits (the parent company of Tincup Whiskey), whipped up fresh cocktails for the journey: a strawberry whiskey smash and a shaved black truffle old-fashioned.
5 p.m.: Happy hour at Mohonk Mountain House
After a very quick turnaround in my room, I headed out to the patio of the resort for a whiskey-fueled happy hour, where I got to meet the other folks on the trip: a few more media people, the Tincup Whiskey team, and Graham Zimmerman, an ambassador for the brand and professional climber who's summited some of the tallest mountains in the world in places like Pakistan and Alaska. Casual.
Adult summer camp recommendation No. 1: Have an outdoor happy hour.
6 p.m.: Whiskey tasting
We migrated inside to a private dining room, where we got to test Tincup's four different types of whiskey. It's not usually my go-to drink — I'm a gin martini girl to my core — but I was pleasantly surprised by how drinkable the whiskey was, and how easily you can make a subtle cocktail out of it. We made our own whiskey sours out of whiskey, lemon juice, simple syrup, and bitters, with decorative flower petals on top.
7 p.m.: Dinner
Dinner was a three-course meal consisting of salad, pasta with veggies, and chocolate mousse for dessert. I got to gossip with my new friends about reality TV and doing our own nails. (Yes, I love hiking and also wear press-ons. I contain multitudes. #Girlhood)
9 p.m.: Campfire and s'mores
I'm the type of person who sticks their marshmallow straight into the fire because I'm impatient. The outside always gets burnt while the inside stays uncooked, yet I refuse to learn my lesson. Although my s'more didn't come out great, I still a blast with my fellow campers.
Adult summer camp recommendation No. 2: Make s'mores, even if it's in the oven. Ideally pair them with some type of beverage.
10 p.m.: Bedtime
Unlike my 17-year-old self, I can't hang super late these days, so I called it a night to read my book (The Heart's Invisible Furies by John Boyne) and drift off before 11.
Adult summer camp recommendation No. 3: Actually go to bed on time. Or maybe don't, if you're nocturnal.
Saturday
9 a.m.: Wake up and get ready
Did I sleep for 10 hours? Sue me, it's camp. One of the best things about vacation is sleeping in, so I took my time getting out to bed.
10 a.m.: Coffee and snack
I had meant to make it to the 10 a.m. yoga class offered at the resort, but between my late wakeup time and my desperate need for coffee, that wasn't happening. Thankfully, the coffee bar downstairs is open 24/7, so I got a large cup and a bowl of fruit and ate it on the porch overlooking the lake.
11 a.m.: Archery lessons
My new friends on the trip convinced me to join them for an archery class on the property, just a five-minute walk from the resort. We each took turns loading our bows and shooting arrows at a target. It's harder than it looks — that bow is heavy! — but I actually surprised myself by hitting the target every time instead of the black tarp hanging behind it. I never got the bullseye, but I'll settle for being just OK.
Adult summer camp recommendation No. 4: Learn a new skill, whether it's a craft or something active.
Noon: Brunch
By this point I was starving, so I headed back inside to the main dining area to meet some more people from our group at the lunch buffet. The food options were a dream — I went with mini sandwiches and a side of breakfast potatoes, plus more coffee, obviously.
1:30 p.m.: Bus to Mohonk Preserve
It was time for our big event of the weekend: the mixer. The weekend crew piled into a bus to Mohonk Preserve, a nature preserve about 15 minutes away. There, we met up with a larger group of about 75 people, many of whom had taken a bus from NYC that morning. I imagine this was like the moment at camp when you do a joint field day with the kids from the other camp down the road.
2 p.m.: Check-in and mingling
We each got a swag bag with Smartwool socks and a headlamp, and I had time to visit one of the event stations, which included making a DIY stamped metal bracelet with my initials.
Adult summer camp recommendation No. 5: Make friendship bracelets.
2:45 p.m.: Hiking
They say you attract what you put out into the world, and I somehow keep attracting activities involving rock scrambling. (My last work trip surprised me with waterfall climbing.) I'm simultaneously happy about this and tired of embarrassing myself in front of new friends. We split into different groups based on difficulty and did a 3-mile trek around the preserve, including quite a climb up the side of a rock face to an overlook. It was very hot and humid, so I was covered in sweat by the end, but I'm happy to announce I did not fall once, and the view at the top was worth it.
5 p.m.: Snack time
We got back to the event area and I noshed on a caprese sandwich with yet another whiskey cocktail in hand.
5:45 p.m.: Mixology class
We put our cocktail-making skills to the test again with a group class under the pavilion. The drink we made was invented by Bachelor host Jesse Palmer, and it included chocolate bitters and maple syrup as a nod to his Canadian roots. My drink actually turned out great this time, a sign that my mixology skills were improving.
Adult summer camp recommendation No. 6: Improve on a skill so you can impress all your friends with it later.
6:30 p.m.: Back to the resort
The event was supposed to last until 7, but when storm clouds started gathering ominously overhead, we decided to pack it up early and head back. The weekend crew squeezed back in the bus and took the 15-minute ride to Mohonk House.
6:45 p.m.: Shower, get ready, and read for a bit
Pre-dinner downtime might be my favorite part of the day, especially when it's thunderstorming and you're cozy indoors. I cleaned up, put on a cute outfit (cargo pants, an oversize button down, and sneakers), and read my book until it was time to meet back up with the group for dinner, which was thankfully downstairs and not outside.
8 p.m.: Group dinner
Dinner at the dining hall was busier than lunch, and we needed a reservation for a group of 12. The meal was three courses: a cream of artichoke soup appetizer; a main course of gold rice with roasted vegetables, mushrooms, and crunchy seeds; and chocolate cake for dessert. This is better than any camp food my friends used to talk about as kids, TBH.
Adult summer camp recommendation No. 7: Don't just eat hot dogs. Order in something more fun.
10 p.m.: Bedtime
I'm a sucker for a hotel bed, and with the heavy rain outside, I could not have been happier to curl up with Netflix and a book and call it a night.
Sunday
8 a.m.: Wake up and get ready
I managed to wake up an hour earlier this morning, but I still stayed in bed as long as possible before throwing on athleisure and heading downstairs.
9 a.m.: Coffee and breakfast
I had another meal outside, trying to soak up every second of beautiful mountain weather before heading home to the 90+ degree heat in NYC.
9:30 a.m.: Solo hike
I wanted to squeeze in one more activity before getting on the bus, and thankfully I had time to hike up to the Sky Top Tower. It was about 1.5 miles total (there and back), and other than being pretty windy at the top, the weather could not have been more perfect.
Pro tip for those in the NYC area: For a day fee of $35 per person, the hikes on the Mohonk property are available to anyone who isn't staying at the resort.
11 a.m.: Bus ride back home
Sunday traffic was muuuch better than Friday traffic, so we got back home after a two-hour ride in which most of us napped or listened to music. Almost exactly 48 hours after it began, camp was over, and I low-key already wished I could go back.
My takeaways
During one of our dinners, Zimmerman was telling me about what alpinists call the "fun scale." Type 1 fun is enjoyable in the moment — think dinner and drinks with friends. Type 2 fun is uncomfortable while you're doing it, but looking back, you're glad you powered through — think working out or making it to the top of a rock scramble. Then there's Type 3 fun, which isn't pleasant while you're doing it or afterward. (This is how I would probably feel about attempting a climbing expedition, but elite climbers might beg to differ.)
This trip was a solid balance of Type 1 and Type 2 fun — a campfire with s'mores, a poor attempt at making a whiskey cocktail, a better attempt the second time around, and a hike in which I unexpectedly struggled my way up a bunch of giant rocks. It reminded me I want more silly moments in my everyday life, even if I can't go to summer camp upstate every weekend.
Adult summer camp recommendation No. 8: Do this kind of sh*t more often. You're never too old to relive the summer camp dream, even if you don't become a pop star in the process.