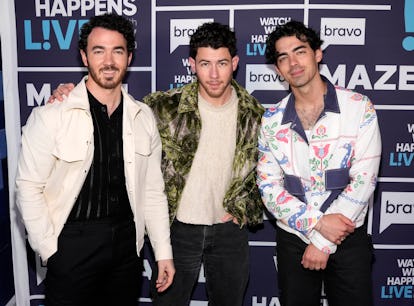 The JoBros' Hot Take About Camp Rock & High School Musical Is So True
Bravo/NBCUniversal/Getty Images
Camp Wanakita, it seems you weren't that girl after all. Well, at least to the Jonas Brothers. It's no secret that Camp Rock belongs in the hall of Disney Channel Original Movies fame. The 2008 film, which starred Demi Lovato and the JoBros, is peak nostalgia. It gave viewers summer camp nonsense, quirky scenes that felt humorous at the time, iconic phrases, and a soundtrack filled with gems. However, even with all those treasures, the group believes another DCOM phenomenon was a better movie.
On May 14, the "Wings" group appeared on Andy Cohen's Watch What Happens Live. While there, they played a round of Agree and Disagree, where Cohen asked if High School Musical was better than Camp Rock. The trio unanimously agreed, which caused the audience to both audibly gasp and laugh. That's quite a fair reaction, considering two golden films are being pitted against one another.
Kevin Jonas then revealed the reason behind their answer. "Bigger budget," he said, to which Nick and Joe agreed. Joe also weighed in, noting that Camp Rock didn't have a staple dramatic scene that makes HSM such a cultural mainstay. The scene in question? Zac Efron performing "Bet On It" in the second film as though rent was due in the next 24 hours.
"Zac Efron dancing in the golf course. We didn't have that," Joe said. OK, true.
That's not the only Disney Channel royalty the group shared their thoughts on. During a round of Plead The Fifth, Cohen asked Kevin if Demi Lovato or Miley Cyrus has a better music catalogue. The singer pondered on the question, before Nick added in his input to calm the heat of the question. "There's an easy answer here, though. But it's for a selfish reason," he said before giving Kevin the floor to speak.
Kevin then agreed and gave a rather diplomatic response. "We wrote the first album for Demi, so I would say us because, then, we're included," he said.
For context, the JoBros' songwriting and producing tag can be heard on Lovato's 2008 album Don't Forget. The record, which spawned sonic gems like "La La Land" and "Get Back," offered listeners the first taste of Lovato's pop-rock prowess. Though the singer (who uses both she and they pronouns) dipped off to create less alternative hits afterwards, she's recently returned to her edgy roots. Talk about a full circle moment.