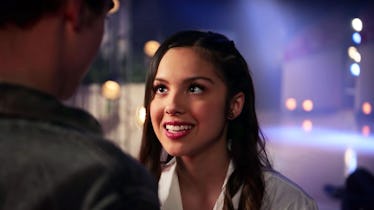 40 'HSMTMTS' Nini Quotes When You Want To Start Something New On Your IG
When Olivia Rodrigo isn't driving through the suburbs or getting strawberry ice cream in Malibu, she's starring in Disney+'s High School Musical: The Musical: The Series. Her character, Nini, really broke free in Season 1 as Gabriella in her school's production of High School Musical. Despite dealing with a love triangle and drama, Nini finished out the season really putting her own dreams first. As someone with big goals and aspirations, you can really relate with a bunch of Nini quotes from the High School Musical series.
Just like Rodrigo IRL, Nini is also a songwriter in the show. She's not afraid to express exactly how she's feeling, whether it's about someone else or just self-love. You're the same way, which is why Nini's quotes in the High School Musical series would make great captions for you to use on Instagram. Perhaps you want to share your musical talents on the 'Gram, and post a video of yourself singing a song like Nini did for Ricky. You could also post a #TBT of the time you starred in your high school musical, or just a sweet selfie with the Kourtney to your Nini. If there's a lovely pic you've got to share with your followers, all you want are these 40 Nini High School Musical series quotes.
"So much has happened, think of what we've done in the time that the Earth has traveled 'round the sun."
"It would be insane to think I might actually have a shot at playing Gabriella."
"I didn't want to take a pause."
"I want to audition for Gabriella."
"We've been together hand-in-hand through it all."
"I found a guy, told me I was a star."
"Still talking here."
"I didn't plan for it to happen, but it happened."
"It's called a showmance."
"What are you doing here?"
"You know what you did or what you didn't do."
"I think I kinda, you know."
"All I want is love that lasts."
"You hate musicals."
"The old me had her heart broken, OK? And then, she went away and she found herself. And you don't get to show up now."
"Are my expectations far too high?"
"I just can't do this right now."
"That's all it is, right? Different. I mean, that's not necessarily bad."
"Well, you can always talk to me about anything, anytime."
"I can't look at Ricky. Is that a problem?"
"We're kind of killing it."
"He worked hard and he looks really good now... in the show. He looks really good in the show."
"Remember in kindergarten, you'd meet a kid, know nothing about them, and then 10 seconds later you're best friends? Singing with you felt like that."
"It just sort of stuck."
"You could just call me buddy."
"All I have is myself at the end of the day."
"Guess I'm sayin' I don't not love you."
"I'm sorry, but no one under the age of 50 should be named Richard."
"Maybe we should warm up our voices."
"I'm like .2 seconds away from making that my lock screen."
"Definitely glowing."
"I don't want to jinx anything."
"I'm my own person now."
"You need to demand respect."
"It's pronounced no way."
"Come on, it's not a novel. It's just four words."
"You know I got your back tonight, right?"
"I remember."
"No worries, I've been wanting to get rid of these shoes for awhile."
"Sometimes, it's easier to just kiss."