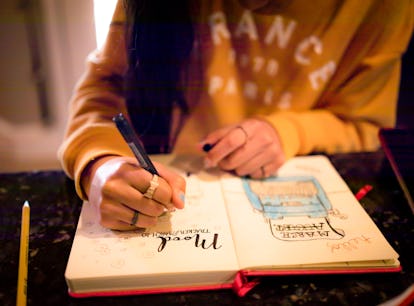 10 Cute And Affordable 2022 Bullet Journals On Etsy For Getting Organized
All you need now are some glittery gel pens.
Shutterstock
If you're wanting to start some good habits, now is definitely the time to make them happen. With the new year comes a fresh start, and getting yourself organized may be one of your New Year's resolutions. If that's the case, one of these 2022 bullet journals on Etsy is the best way to make it happen. Bullet journaling is a great way to not only jot down your daily habits and activities, but also to track your growth and progress throughout the year. Depending on your goals for 2022, you can even find a bullet journal that makes sure you're taking the necessary steps each day to meet them.
Let's not forget that bullet journaling is also super fun if you love doodling, coloring, and writing every day. After all, who doesn't love an excuse to break out the markers and glittery gel pens? Of course, there are tons of bullet journals to choose from on Etsy, and before you hit "add to cart" for any of them, you want to make sure you're picking out the right one for you. Luckily, each one of these 10 bullet journals on this list is under $50, which is great for anyone watching their finances in the new year. So, let's figure out which budget-friendly bullet journal is calling your name.
If you're someone who loves to track every little thing from your daily moods to your follower count on social media, you may want a very detailed bullet journal. There are also digital bullet journals that are easily accessible for anyone with an iPad or tablet. Since it's Etsy, there are even bullet journals that you can get personalized with your name to make them extra special. Whatever you're manifesting in 2022, you're sure to find a January bullet journal from these sellers that will kickstart your year in the most organized way possible.
We only include products that have been independently selected by Elite Daily's editorial team. However, we may receive a portion of sales if you purchase a product through a link in this article.