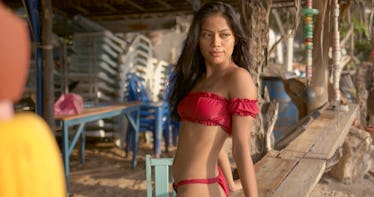 20 Best Instagram Captions For Your Thirst Trap Photos
Shutterstock
Summer is approaching, and that means you're going to be doing things like barbecuing, swimming, and planning a few more outings with your bestie. The warmer weather is also another excuse to keep your Instagram photos on point and with that comes ample gorgeous, glamorous thirst trap photos of yourself (for yourself) on your feed.
If there's one selfie trend from 2017 that still gets high recognition today, it's the "thirst trap." In October 2019, Tracee Ellis Ross posted a series of unfiltered bikini pictures of herself on Instagram on her 47th birthday, along with a caption that read, in part: "I've worked so hard to feel good in my skin and to build a life that truly matches me and I'm in it and it feels good. … No filter, no retouch 47 year old thirst trap! Boom!" That was the best Instagram caption for her thirst trap photo, and I'm telling you there's one for you, too.
Though many have referred to thirst traps as photos you post to attract attention from your followers on social media, they can also be pictures you post for yourself as well. If you're feeling yourself and want to make it known, it's your prerogative to do that. Your Instagram feed belongs to you.
Confidence is key when taking the perfect thirst trap photo. Once you have that nailed down, all you need is the perfect accompaniment: a fire caption.
1. "There is only one person in this world who I am in competition with: myself." — Jennifer Lopez, Cosmopolitan
2. "Confidence level: Selfie with no filter."
3. "I'm feelin' myself." — Nicki Minaj featuring Beyoncé, "Feeling Myself"
4. "Stay up off my Instagram, pure temptation." — Rihanna, "Sex With Me"
5. "What's wrong with being confident?" — Demi Lovato, "Confident"
6. "Gonna love myself, no, I don't need anybody else." — Hailee Steinfeld, "Love Myself"
7. "Your sex appeal or beauty isn't defined by anyone else ... you are your own audience, your own VIP." — Amber Rose, How to Be a Bad Bitch
8. "When there are so many haters and negative things, I really don't care." — Kim Kardashian
9. "Happiness and confidence are the prettiest things you can wear." — Taylor Swift
10. "Be proud of who you are, and if you have a part of you that you love the most, of course show it off." — Becky. G., Seventeen
11. "My alone feels so good, I'll only have you if you're sweeter than my solitude." — Warsan Shire
12. "You don't worry about fitting in when you're custom made." — Drake, "Views"
13. "Does my sassiness upset you?" — Maya Angelou, Still I Rise
14. "It's the fire in my eyes and the flash of my teeth. The swing in my waist and the joy in my feet." — Maya Angelou, Phenomenal Woman
15. "Don't be easy to define. Let them wonder about you." — Moosa Rahat
16. "I don't like defining myself. I just am." — Britney Spears
17. "I do a thing called what I want."
18. "To me, beauty is confidence." — Selena Gomez, Bliss
19. "When life gives you curves, flaunt them."
20. "My smile is beamin', my skin is gleamin'." — Ariana Grande, "7 Rings"
This article was originally published on