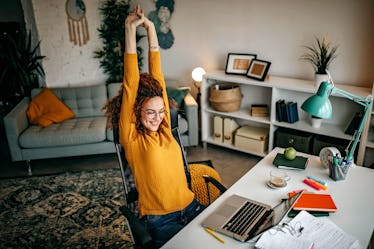 10 WFH Hacks On TikTok That'll Freshen Up Your Home Office Situation
StefaNikolic/E+/Getty Images
Your home office space is probably the most used area of your house right now. It can be pretty boring to live and work in the same space 24/7, but luckily, you can switch things up with these WFH hacks on TikTok. These hacks are a surefire way to freshen up your home office situation and will help make you feel your most inspired self.
Start the new year off on the right foot by DIYing a few things, like creating your own cute palette table to organize and accessorize your workspace. Or, create a calming work environment with the adorable and colorful keyboard that's been taking over TikTok. Home workspaces can start to feel tight or even boring, but these WFH hacks on TikTok are easy and fun ways to kick your daily vibe up a notch.
Once your home office gets some updates, you'll have fun showing it off on TikTok. Take a quick video of your chic new space, or even snap a few selfies of your work routine to show your followers how it's done. Your WFH office pics will give off all the cozy and coordinated vibes that your viewers will need to inspire them to start their own WFH hacks on TikTok.
We only include products that have been independently selected by Elite Daily's editorial team. However, we may receive a portion of sales if you purchase a product through a link in this article.