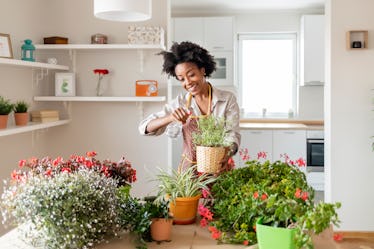 10 Plant Hacks On TikTok That Deserve A Green Thumbs Up
PixelsEffect/E+/Getty Images
Growing your own indoor magical forest isn't always easy. As a proud plant parent, you want to make sure you're taking the best care of your little green friends. When talking to your cacti and singing to your aloe are no longer cutting it, try these plant hacks on TikTok to help your plants thrive.
As the seasons change, your plants' care may, too. Fret not, because TikTok is here with all the plant hacks you need to ensure all your green babies stay healthy. From tips on propagating, to making seeds sprout faster, to crucial watering advice, there are so many great plant hacks on TikTok to help you avoid any problems in your garden.
When your buds begin to sprout and your snake plant starts grazing the ceiling, you'll want to film your greenhouse to show off your flora-shing shrubs on TikTok. You can even spruce up your TikTok video by adding a cute caption like, "Please don't kale my vibe." Your video is sure to make it on everyone's For You page, as it'll leaf everyone with so much plant-spiration. And you'll be feeling totally vine knowing that all your plants are living their best lives, thanks to these plant hacks on TikTok.