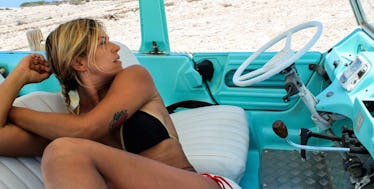 21 Beautiful Watercolor Tattoos For Your Salty Air, Sun-Kissed Hair Beach Pics
As your beach goddess-self is slaying it all summer long, don't be afraid to shine a spotlight on whatever makes you beautifully unique.
If you're into body modifications, like tattoos and piercings, building an adorable summery outfit around what's on your body can be so much fun.
Watercolor tattoos are gaining popularity for their unique aesthetic and incredible detail. With tons of bright colors to incorporate into your next design, you can see why they're the perfect kind of ink for summertime.
Here are 21 stunning watercolor tattoos to rock in your salty air, sun-kissed hair beach pictures all summer long.
1. Something to guide you through the summer.
Pretty little watercolor compass tattoo on ankle by Mini Lau - https://t.co/pw4mBytNNg pic.twitter.com/BeKYIwftgW — We Know How to Do It (@how_do_it_com) July 20, 2017
2. A floral masterpiece.
#tattoodotcom #inkoftheday by Koray Karagozler#watercolortattoo #watercolor #flowertattoo #botanicaltattoo #tattooshttps://t.co/XdWzuwqQaQ pic.twitter.com/PgXdggOZpp — tattoodotcom (@tattoodotcom) February 7, 2017
3. A summery representation of your favorite animal.
Fun little #watercolor #turtle tattoo with the #nightmarebeforechristmas Hill in the shell done by resident artist @Tat2Jesse #hhtattoo pic.twitter.com/WoLIFXretS — Hart & Huntington LV (@HHTattooLV) June 27, 2017
4. A nautical symbol of your strength.
wonderful anchor with pink rose watercolor tattoo quotes on side - refuse to sink - https://t.co/pE10dhDSZq pic.twitter.com/j0mcXjyi9n — We Know How to Do It (@how_do_it_com) June 20, 2017
5. A gentle reminder to always care for yourself.
#tattoodotcom #inkoftheday by Joice Wang#watercolortattoo #justbreathe #scripttattoo #watercolorart #watercolorhttps://t.co/CNigeWDepq pic.twitter.com/f9ZGgvSsag — tattoodotcom (@tattoodotcom) June 19, 2017
6. Something to add extra color to your beach day.
Womens Bright Watercolor Mandala Back Tattoo - https://t.co/lURuMn54K2 pic.twitter.com/HWQntcRRfj — We Know How to Do It (@how_do_it_com) June 14, 2017
7. A dedication to your best furry friend who loves summer just as much as you.
tried to find one good watercolor tattoo on pinterest and in fairness i easily did but it still had those damn splatters pic.twitter.com/0UK8oNFQw2 — anna.phd (@nna__oK) June 9, 2017
8. Something simple, yet stunning.
lotus tattoo watercolor - https://t.co/jwSnTNkSCO pic.twitter.com/dYVXdjTHem — We Know How to Do It (@how_do_it_com) June 5, 2017
9. A meaningful quote to remind you to live your best life.
Watercolor Dr. Seuss quote! #drseusstattoo #tattoo #inked #skinandink #watercolortattoo #mattjacksontattoos pic.twitter.com/sineWmQ39u — Matthew Jackson (@mjacksontattoos) June 2, 2017
10. A dandelion to help you blow away all of your summer wishes.
FINALLY got my reward!!! #TattooedNurse #MemorialTat #MyArtistIsBetterThanYours @SpikeInkMaster #watercolorTattoo ❤
11. Something to combine geometric and watercolor art styles.
#mustcrew #tattoo #alletattoo #limidi #modena #italy #feathertattoo #piuma #feather #geometric #watercolor #tatuaggio #alletattoo #artwork pic.twitter.com/BVSGBBQVQm — Alle Tattoo (@AlleTattoo) May 8, 2017
12. The skyline of your favorite destination(s).
@tattoosbyemi did this small custom #watercolortattoo of the #cologneskyline the other day. #watercolor #colortattoo pic.twitter.com/OIYFM9PbG5 — Jackalope Tattoo (@JackalopeMN) May 8, 2017
13. A reference to your favorite book or film.
Love this watercolor 'Little Prince' tattoo✨. (Source: https://t.co/zoUDs4J1rX.) pic.twitter.com/S5Nv6dhNhV — Bookstr (@BookstrOfficial) April 30, 2017
14. Something to accent your beautiful soul.
"Peony" by Pis Saro https://t.co/1wrXEt068e #floraltattoo #watercolortattoo #flowertattoo #tattooartists #tattoo #tattoolife pic.twitter.com/1pYMi50YJO — Talenthouse Español (@talenthouse_es) April 15, 2017
15. Something very, very bold.
Cool watercolor tattoo of Edgar Allan Poe by Chris Toler pic.twitter.com/ftySDnirTv — Perfect Tattoo (@PerfectTat2) April 3, 2017
16. Something to show your love of the world.
Artist on instagram: @barisyesilbas - atom - watercolor tattoo - line work pic.twitter.com/sRNekFvtuU — ultranoia (@annsglover) March 22, 2017
17. Something well-rounded.
Watercolor flower shoulder tattoo for women - 55 Awesome Shoulder Tattoos - https://t.co/xuGpaDc4oh pic.twitter.com/P2NPTq2JhW — We Know How to Do It (@how_do_it_com) March 11, 2017
18. A piece of pure cuteness.
Elephant watercolor tattoo by Russell Van Schaick pic.twitter.com/x9pikGcfBX — Tattoos (@tattoosdb) March 10, 2017
19. The zodiac signs of those you love.
Watercolor/splash zodiac tattoo by Theodor yesterday in Germany.Most of the time you can find him at TH Tattoo in Bucharest...#tattooartist pic.twitter.com/s1RykeKcUQ — TH Tattoo (@THTattooStudio) February 26, 2017
20. A reminder of what's most important to you.
"Watercolor Ballerina, Rob #Green, #ParkCity #Tattoo, #Bridgeport, CT" #tattoos #ink #pics pic.twitter.com/AXuAirfOUX — KellyKhamp (@KellyKhamp) February 23, 2017
21. A symbol of pride.
So happy with this ❤❤❤ #firsttattoo #chakratattoo #watercolortattoo pic.twitter.com/YneMFRU3J3 — Grace Lee-Poole (@GraceMarieLee) February 20, 2017