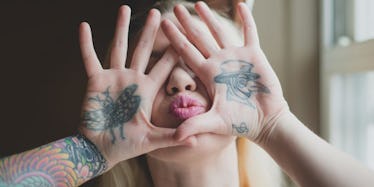 11 Watercolor Tattoos That Will Change The Way You Think About Ink
It's hard to believe tattoos were once considered taboo when practically everyone has one (or many) these days.
In fact, it's probably less common not to have a tattoo than it is to have one — which sort of undermines the whole purpose of getting inked.
Body art, traditionally, is used as a form of self-expression; a way to distinguish yourself from everyone else. But if everyone has the same (or similar) tattoos, the whole purpose becomes muddled.
Fortunately, the world of body art has evolved in recent years. Though traditional designs are still popular, people are seeking out everything from tiny tattoos to intricate custom pieces designed by artists as a way to make their ink unique.
My personal favorite style? Watercolor tattoos. Inspired by watercolor paintings, this colorful body art is definitely a statement, but at the same time, delicate, fresh and original.
Get some inspiration below.
The watercolor style looks stunning no matter what the subject.
You could get a color-splattered "Harry Potter" tat…
….Or a feminine floral piece.
Abstract designs are totally ace…
…And so are surrealist cityscapes.
Go for something big and bold…
…Or opt for something small and sweet.
There's no going wrong with this gorgeous style…
…No matter what your personal tattoo preference.
Like all ink, you'll want to be sure before you go under the needle…
…But as far as I'm concerned, these delicate designs are an instant classic.