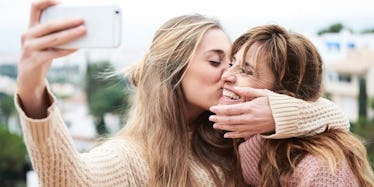 6 Ways Your Relationship With Your Parents Changes From Your 20s To Your 30s
Guille Faingold
I've always had an incredibly close, wildly emotional, deeply-loaded relationship with my parents.
Real talk: I wasn't the easiest kid in the world to raise.
As a teenager, I was a complicated closeted lesbian who secretly abused hard drugs and alcohol. I smoked cigarettes out the window of my bedroom, and would hotbox my closet.
I got terrible, terrible grades. I didn't play sports or participate in any after-school activities.
I just wanted to be an actress, which is every parent's nightmare career for a child.
Why? Oh, I don't know... maybe because Hollywood beauty standards will give any nice girl an eating disorder, and because the business is full of blood-sucking energy vampires?
In my 20s, I cleaned up my act a bit. But I was still no walk in the fucking park, baby.
I came out of the closet... which my parents were totally OK with, but lez be real: Realizing your red-lipstick-wearing daughter is a surefire dyke is a harrowing, confusing experience, even for the most liberal of parents.
Realizing your red-lipstick-wearing daughter is a surefire dyke is a harrowing, confusing experience.
I was constantly blowing money, and all too often needed their assistance to get out of deep financial holes.
I had extreme career highs and extreme career lows. I almost overdosed on Xanax in my childhood bedroom when I was 21 years old.
Yeah, that was a total blast for all of us: I'm sure they fully enjoyed having to throw their daughter in a freezing cold shower.
I lived in their beautiful house with my goddamn girlfriend, for Christ's sake! They had two lesbian lovers shacking up for free in their Florida home, devouring their fridge full of nice "Whole Foods" type food.
My parents have been amazing, supportive, wonderful, mystical creatures of stability through it all. They deserve a medal for what I've put them through.
For real, mom: One day, I'll be mega rich and buy you a $20,000 orange Hermes Birkin bag to make up for all the trauma.
The trouble is, like most narcissistic 20-somethings, I didn't think I was a difficult kid at all.
What can I say? I was a super entitled Millennial, and I thought I was some sort of GIFT to my parents. Now, I see it's the other way around.
My parents are a prize that I've won; I'm not their pretty show pony.
Now that I'm 30, there has been a dramatic shift in my dynamic with both my parents. It's happened to most of my friends as well.
As we become real, independent, thriving adults, our relationship with our parents drastically changes.
As we become real, independent, thriving adults, our relationship with our parents drastically changes.
And darling, you're not a real adult in your 20s: You're just not.
Even if you're making crazy money, your 20s are a strange adult adolescence: You're not a teenager anymore, but you're also not quite an adult yet.
Being a grown-up is so shiny and new, you're still figuring out how to navigate the dark and stormy waters of adulthood. Just like those awkward, haphazard tween years, it's a great period of discomfort.
As you get into your 30s and settle into your grown-upness, things really shift.
1. In your 20s, your parents are superheroes. In your 30s, they're human beings.
I'll never forget the day I looked at my mother – who has been my ICON my entire life – as a woman, as opposed to a superhero goddess who had the answers to everything.
We were discussing sex, of all things.
I don't know how it happened: I think I was asking her if she thought I should have sex with this girl I liked right away or not. (We're close.)
Somewhere in the musings, my mother revealed how often her and my father have sex. (I know this is weird to some of you, but I'm giving it to you real, babes.)
I dramatically threw my hands over my ears and yelped, "MOM, I DON'T WANT TO HEAR ABOUT YOUR SEX LIFE! EWWWWWW."
My mother looked hurt. I had never in my life seen my powerhouse of a mother – the notorious former supermodel Lynn Barrie – look remotely vulnerable. Now, she looked like a lost puppy. I was starting to feel feelings.
Mother darling took a sip of her tea and said, "You know, Zara, I'm a woman too."
Suddenly, a lightbulb went off in my self-involved, late 20s brain:
Holy shit! My mother is a woman: a complex, multifaceted woman, who is capable of having her feelings hurt. She has a SEX drive like all women, and she can be vulnerable like me.
I wanted to hug her and tell her I was so sorry for undermining her as a woman.
From that moment on, even though I still idolize and respect the hell out of my parents, I looked at my parents as human beings, as opposed to superheroes.
I saw my dad through a whole new lens, too. He was no longer the master authority on everything, or an invincible man who could rescue me from all harm.
All of a sudden, I saw the great pressure my dad has been faced with the past four decades, for being the father of four complicated, creative children. The great weight of the pressure he was under felt palpable to me.
And just like that, my parents became human.
And when your parents are human, you treat them differently: You treat them with a greater sensitivity because you know that unlike superheroes, human beings can get hurt.
And unless you're a sociopath, nothing is worse than hurting a human... especially a human you love with all your heart.
2. In your 20s, your parents are authority figures. In your 30s, they're like your wise, older "friends."
In my 20s, my parents were still my authority figures because I was not only dependent on them financially, but emotionally too.
Whenever you're dependent on another person for your survival, the person becomes an authority figure. And you're fueled with the desire to please your authority figures at whatever cost: It's like that hardass teacher in high school you wanted to prove your worth to.
I constantly wanted to impress both my parents and get that "A+" perfect child grade. I even tried to get into the cosmetics industry like my dad because I wanted to make him proud... like his guidance had served me in some way.
When I reached 30, I became a totally independent entity. I finally got out of that complicated Saturn return shit and was confident in my career as a writer.
This newfound confidence and financial stability created a massive shift in my relationship with them.
I still ask them for advice and guidance all the time, but I no longer do things exclusively because they tell me to do them.
They're like these really cool, wise mentors who can give me their two cents... and I'm beyond grateful for their two cents! But at the end of the day, I do what I feel is right.
Before, they were the CEOs of my life. Now, I'M the CEO, and they're like my business advisors or something.
3. In your 20s, your parents give you advice. In your 30s, you end up giving them advice.
In my 20s, I was constantly hounding my mother for life advice.
MOM, do I break up with HER? MOM, what do I wear to the first date? MOM, what do I DO WITH MY LIFE?
I would wail at her so much. I was constantly calling my poor mother, demanding she provide me with an EXACT blueprint for my life.
And my mother, who happens to be extraordinarily talented at the art of giving advice, was happy to tell me what to do.
When I hit 30, I began to think, "Shit! My poor mother is always giving everyone else advice, but no one ever listens to her."
I started to ask her questions:
Mom, are you really authentically happy? Mom, are you sure you want to wear THAT outfit to the event?
And suddenly, I began guiding my mother.
I would encourage her to cut toxic people out of her life. I would tell her how to manage her needy friends, and even tell her what designer bag to wear with what dress.
It's actually a really new, amazing layer we've added to our already amazing relationship. It's more of a give and take, as opposed to an "I'm going to suck you dry because I'm 23 and selfish AF."
4. In your 20s, you get drunk and party with your friends. In your 30s, your parents are your favorite people to party with.
In my 20s, I loved to hang out with my parents... but I wanted to ~party~ with my friends. I would sit at dinner with them, furiously texting my friends under the table to scheme about what shitty club we should go to later.
In my 30s, I much prefer to party with my parents over my friends. I love to get a little tossed with my parents.
We gossip about our other relatives, I ask them deep questions about their relationship and I blab to them about feminism and other political ideas I'm passionate about.
In my 30s, I much prefer to party with my parents over my friends.
When you're in your 20s, partying is all about going and being seen by the masses. It's about the fishnets, the lipstick and the faux fur vest. It's about the promoters, the cocktails, the drugs and the hookups.
Once I hit 30, I realized how tiresome all of that bullshit was. If I'm going to waste my precious caloric intake (I know, I'm one "those" girls) on booze, I want to be buzzed around people I adore.
And nothing is more fun than drinking (nice) champagne with my parents at a civilized restaurant, talking REAL life shit... not vapid club bullshit.
5. In your 20s, your parents worry about you constantly. In your 30s, you worry about THEM constantly.
In my 20s, my parents were forever worried about me.
"You didn't text me when you got home," my mother would scream into my voicemail, teeming with fear that I'd gotten in the car with a drunk driver (which for the record, I only did once).
Oh, how things have changed. Now that I see my parents as mere mortals, I worry about them constantly.
"Do you think dad is truly happy?" I'll ponder to my brother over the phone.
"I haven't heard from mom in like 12 hours, is everything OK?" I'll furiously text my sister, my head spinning with the dark thoughts about what could possibly have happened to her.
I guess I just realize they aren't going to be around forever. And my greatest fear in the world is losing them.
6. In your 20s, you're irritated with their nagging. In your 30s, you wish they had nagged you more.
"Why can't I just have, like, a NORMAL conversation with you guys, without you nagging me about HEALTH INSURANCE? I'm just trying to live my life!" I would weep over the phone to my parents when they would nag me about doing adult things.
This is the greatest change I've experienced. I appreciate all the nagging they did in my 20s, but I ALSO realize it wasn't nagging at all. They're just two fantastic creatures encouraging their child to get it together so she can live her best adult life.
I appreciate all the nagging they did in my 20s, but I ALSO realize it wasn't nagging at all.
Sometimes, I even wish they had nagged me more. Maybe if they had, I wouldn't be such a reckless spender.
But in the end, I'm just full of so much sweeping gratitude for all the nagging, lecturing and advice they gave me. I realize not everyone has parents who care enough about them to nag them.
A lot of adults – my closest friends even – have had to navigate adulthood all alone. But I didn't.
I've had this safety blanket of love keeping me safe and warm my entire life. I had selfless parents who cared enough about me to give me a hard time because they believed in all I could accomplish.
And you know what? Now that I have shit (sort of) together, I deeply miss the incessant nagging.
If you really think about it, nagging is the ultimate way to express your love for another person.
If you aren't nagged, you're not loved. My parents taught me that beautiful life lesson, and it's served me in all of my relationships.