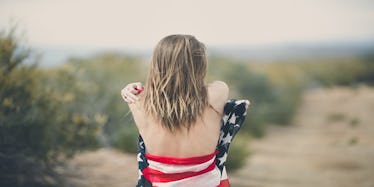 6 Summer Necessities To Pack In Your Suitcase For Your Fourth Of July Vacay
Pexels
Since the only things you probably have stored away for your Fourth of July vacation are anticipation and excitement, you've got room to fit a few extra things in your suitcase.
No one wants to be a pack rat, but you also don't want to be ill-prepared for a potentially #lit holiday getaway.
Now, put your forethought aside, own that adventurous spirit, and be as open as your suitcase.
There are a few things you probably didn't think of for your Fourth of July trip, and quite frankly, they are sort of a must.
Don't worry, you still have time to consider packing some of these fun essentials.
1. Canned Wine, So You Can Rosé All Day
Did someone say canned wine?! Our market favorite right now is Alloy craft canned wine, come by to try it!! pic.twitter.com/C8PHX52tE2 — Lucy's Market (@lucystomatoes) April 25, 2016
2016 ALLOY EVERYDAY ROSÉ (4PK), $30, Alloy Wine Works 
Yes, all of your hopes and dreams have been answered for your holiday plans, because this canned wine is here to slay.
Make sure those pinkies are out as you're laying on the beach. Sauvignon Blanc? Pinot? Chardonnay? You choose.
2. Water Mist Fan
Water Mist Fan, $9, Walmart
It's summer, which translates to: It's hot AF outside. And maybe if you aren't quite ready to fully submerge yourself in a body of cool water, this is a little teaser of what's to come.
It could also simultaneously be used to annoy anyone who claims they won't be getting into the water.
3. Anchor Your Anklet
Anchor Anklet, $13, Etsy
You want to look chillaxed from head to toe on your vacay, right? Pair your cute swimsuit with a simple but glamorous anklet.
4. Glass Mirror Screen Protector
Tempered Glass Mirror Screen Protector, $34.99, Glam Screen
Hey, you never know when you'll need a mirror, and what better way to keep one close by than to have it on your phone... which you hopefully don't misplace.
5. It's All In The Eyes
It's Potent! Dark Circle Eye Cream, $34, Sephora 
Vacation means carefree late nights, rolling out of bed whenever, heading back to the beach, and doing it all over again.
But you don't have to wear the partying and sleep deprivation on that face of yours. Keep those eyes looking bright-eyed and bushy-tailed.
6. Waterproof Playing Cards
Waterproof Playing Cards, $8, Amazon
For all of you card sharks out there, no need to, ironically, let water get in the way of your poker game.
Make this Fourth of July vacation fun, fabulous, and unforgettable with a little help from some genius items... and that previously mentioned anticipation and excitement.