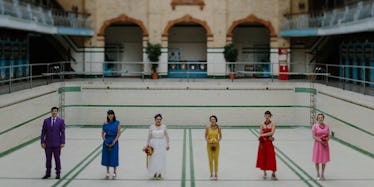 15 Gorgeous Pics Of Mismatched Bridesmaid Dresses You'll Instantly Say "I Do" To
Tom Pumford/Unsplash
Sometimes finding the perfect bridesmaid dress can be just as hard as finding the perfect wedding dress. Not only do you need to find something that matches the colors and feel of the wedding, but also something that looks great on every person in the bridal party. We're all fabulous, of course, and we do come in all different shapes and sizes — which can only make seeing these trendy, fun, and totally fabulous photos of mismatched bridesmaid dresses such a genius idea for any wedding.
Not only does everyone look great in their own way, but it adds for a dreamy rustic feel different from the normal cookie-cutter wedding day. It'll be such a relief on you when you don't have to listen to your besties complain about a dress they'll "only wear once." Plus, you'll look even better when you know your BFF squad is comfortable and feeling good too. The only requirement of the day is that you stand out, and when all eyes are on your gorgeous bridal party, you'll be at the center of that attention. Everyone will be looking at you, just like these 15 beautiful examples of mismatched bridesmaid dresses.
1. These full-length blush colored dresses give us a dreamy feel.
2. Having two wedding colors that go so well together that no matter which one your bridesmaids choose, they all look great.
3. It doesn't have to be different colors. You can get the same color but different styles for a mismatched look.
4. Different shades of purple give a royal feel.
5. Versatile wrap dresses worn in the different ways can give each bridesmaid a chance to show her own personality with the same dress.
6. Having the same style dress, but giving them three different color options.
7. Having a dress for every color represented in the bouquet.
8. It's a hippie dream, allowing everyone to wear whatever they feel beautiful in.
9. The only requirement is a floral print.
9. They'll shine bright in mismatched metallic.
11. An array of different prints.
12. Bold and rich tones that match the bold lips and bouquets.
13. The only thing these 'maids matched were the braids in their hair.
14. These bright, bold spring colors make the bride in white pop.
15. The flower crown and bouquet match, but everything else is up to you.