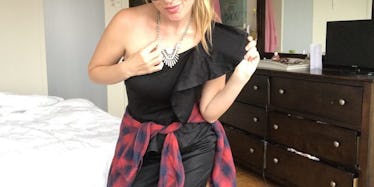 5 Ways To Style Your Old Bridesmaid Dresses So You Could Wear Them IRL
Jen Glantz
As the person who has been nicknamed "Always The Bridesmaid" by my friends, my family members, and even once by a rabbi who saw that I was a bridesmaid in three weddings he officiated, I have come to accept the repeat role of being in the bride's wedding squad with open arms.
I've become a professional at knowing the best spots to throw a bachelorette party that won't rob the pockets of the people going on it, and I know the best games to play at a bridal shower so none of the guests are bored or too busy downing mimosas.
I even know the right things to say to a fellow bridesmaid who's had it with the bride and the bride's endless demands (from requiring that all the bridesmaids wear a certain style shoe to asking them to get their nails painted all the same color of pale pink).
But one thing that has taken me quite some time to figure out is what to do with old bridesmaid dresses.
After spending years rolling my eyes at brides who vow their bridesmaids will love the dress they picked out so much that they will be eager to wear it again, I recently took out the handfuls of bridesmaid dresses I have stuffed in the back of my closet and stared at them, trying to figure out what to do with them.
Because I'm a 20-something with the budget of a teenager, I like to try to reuse whatever I can so I can cut down costs and put excess money toward my currently nonexistent 401k.
I've decided to brush the dust and steam the wrinkles out of my bridesmaid dresses and figure out a way to style them so I can wear them again IRL — without people wondering why I'm re-wearing a bridesmaid dress.
To help you do the same with your old bridesmaid dresses, here are five tricks to style your dresses so you can wear them to normal, everyday places and events.
1. Add accessories.
A simple way to dress down a bridesmaid dress is by adding accessories.
Whether you wear a scarf, some of your casual jewelry or even a pair of flats, you can turn a fancy dress (that's usually paired with heels and your finest jewelry) into a dress that can be worn to a weekend brunch, a bridal shower, or a dinner at a local hotspot.
2. Make alterations.
If there's a bridesmaid dress that fits you very well, consider changing it up so you can wear it comfortably and casually. Perhaps you can dye the color of a dress so it's a darker color that won't give off a wedding vibe, or you can shorten the dress from long to knee-length.
3. Disguise it.
Consider the bridesmaid dress as your "base," and from there, add some of your favorite pieces (skirts, jackets, tops) over it to make it more casual and to disguise the fact that you're wearing a fancy dress. Pair the dress with your favorite rock n' roll t-shirt or off-the-shoulder top to make it more daytime friendly.
4. Use it for the office.
Figuring out what to wear to work can be a time-consuming headache. One outfit you can consider is a bridesmaid dress paired with a blazer, jacket or a sweater for a more office-friendly and dressed-down look. It'll help disguise the top of the dress, which may be the fanciest part of it.
5. Belt it up.
Adding a belt to your bridesmaid dress can give it a more casual vibe. It can also make it feel like less of a fancy gown and more of a summertime maxi dress that works well for BBQs or post-beach cover-ups.
Before tossing your bridesmaid dresses in the back of your closest, or writing them off as totally inappropriate to wear to work, dinners, or casual brunches with your BFFs, figure out if you can style them with your favorite accessories and jackets so you can get the most bang from your bridesmaid buck!
For more funny bridesmaid stories, check out Jen Glantz's new book, Always a Bridesmaid (For Hire).