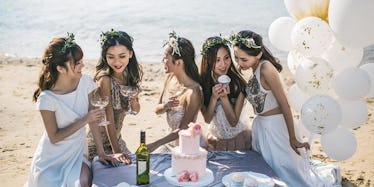 18 Insta Captions For Your Bachelorette Party When It's Time To Pop Bottles
Jeremy Wong/Unsplash
Many of us have envisioned our dream wedding since day one. But, we all know the real fun of it all truly begins at the bachelorette party. It's your one final rager before tying the knot when your girl squad comes together to celebrate your journey from a single lady to a wifey.
From the guest list to the perfect reception venue, you've been planning your wedding with your best friends by your side. You deserve the bachelorette party to be the absolute time of your life, free of any sort of stress. Your bridesmaids will do everything in their power to make sure that happens.
Obviously, you have to document this weekend with a ton of pictures to grace Instagram. And let's face it, the party shouldn't have to come to a halt when you're thinking of the ultimate caption. If you're too busy having fun to come up with something clever, here are 18 ideas ready to slay. This way, you can get back to popping bottles.
1. "Pop the champagne. I'm changing my last name." -- Unknown
2. "When I sip, you sip, we sip." -- Unknown
3. "Raising hell before the wedding bells." -- Unknown
4. "Bring on the bubbly, I'm getting a hubby." -- Unknown
5. "I said yassssss!" -- Unknown
6. "Don't keep calm. The bachelorette party is on." -- Unknown
7. "Before you say 'I do.' Let's have a drink or two." -- Unknown
8. "Hangovers are temporary. Drunk stories are forever." -- Unknown
9. "It's a perfect day to drink champagne." -- Unknown
10. "A little party never killed nobody." -- Fergie
11. "Birds of a feather drink together." -- Unknown
12. "Hakuna some vodka." -- Unknown
13. "I solemnly swear that I am up to no good." -- Harry Potter
14. "He popped the question. We're popping bottles." -- Unknown
15. "I'm ready to paaaaarty." -- Bridesmaids
16. "Let's get ready to stumble." -- Unknown
17. "Something borrowed, something blue, we party harder than you." -- Unknown
18. "Buy me a shot, I'm tying the knot." -- Unknown