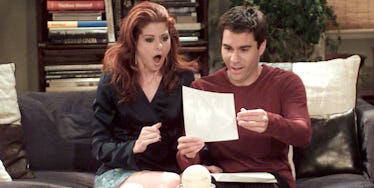 Literally Flawless Holiday Gift Ideas For Your Gay BFF
Warner Bros. Television
Gays know how to give good gifts.
When shopping for presents, I think long and hard about my BFF's interests, likes, dislikes and little nuances only I'd be able to pick up on. The best kind of gift to purchase is one filled to the brim with meaning and memories from months or years past.
Just last year, I received a collection of Emily Blunt's greatest hits (because she is my everything), some baking soda (because my fridge needs some work) and soap in the shape of a large penis (because, you know).
And though those things may seem off-putting to others, my good friend knew enough about my life to turn average buys into heartfelt items I'll always remember.
Nothing gets better than that feeling. And pro-tip, guys: Never give cash or a gift card. You can't get more impersonal than that, hunty.
I'm sure all my gay brethren out there are pros at both giving and receiving, so this gift guide is tailored to make sure they're satisfied when their straight friends wonder what to get them this holiday season.
So here are all the things that'll make the perfect present for your gay bestie. Just don't mess it up. I promise you, we will return it:
1. "Let Me Be Perfectly Queer" T-shirt
"Let Me Be Perfectly Queer" shirt, $23, Etsy 
For those who don't wear their sexuality on our sleeve, this is the next best thing.
This comfy, unisex, American Apparel tee is fitted with just the right amount of witty text that anyone is guaranteed to get the hint that you're a gay. Plus, you can't go wrong with a good pun.
2. A pair of Calvin Klein X Micro Hip Briefs 
Calvin Klein Hipster Briefs, $24, Amazon 
Sure, lingerie for men does exist, but that doesn't mean I'd ever like to be caught wearing ass-less nylon tights or a man thong.
If you're itching to give that kind of gift, shoot for flattering underwear in a fun print or color. Your bestie will be super grateful, since showing off a little extra thigh to their man will have their underwear coming off faster than they can put it on.
3. Booty Boot Camp Training Kit ($29.95)
Booty Boot Camp Training Kit, $33, Adam Male 
Instead of aiming for something mundane like condoms or a cock ring, go for a gift that's a bit more penetrating.
This "training" kit is a guaranteed good time, equipped with three flexible, silicone anal plugs in small, medium and large, to prepare your friend for any gentleman they encounter with the lights off.
And if you're feeling extra generous, pair it with some quality lube, too!
4. A digital copy of "RuPaul's Drag Race" Season 5
"RuPaul's Drag Race" Season 5, $35, Amazon 
I recently started "RuPaul's Drag Race" (a few seasons late, I know), but boy, am I making up for lost time.
A digital copy of Season 5 — a personal favorite — will give your gay best friend the ability to watch wherever they choose, allowing them to serve fishy goodness at all times.
Shante, you... better buy me this right now.
5. Deluxe Comfort Boyfriend Muscle Throw Pillow
Deluxe Comfort Boyfriend Muscle Throw Pillow, $59, Wayfair 
Finding the perfect guy certainly ain't easy.
Since the bitter, cold, winter months may be a constant reminder to your BFF that cuddling alone is never fun (and kind of impossible), gift them with the next best thing.
This plush pillow is buff, it's soft and it just so happens to be an excellent listener.
6. 25-Pound Rogue Rubber Hex Dumbbells
25-pound Rogue Rubber Hex Dumbbells, $60, Rogue Fitness 
Getting swole isn't easy when you're super lazy. So instead of pushing workout classes down someone's throat, give them the luxury of working out from their couch (or bed or the toilet — whatever works).
Being a twink works for some guys, but I'd choose the label of "twunk" any day of the week.
7. A "Man-ly Cure" and "Sole" Man Pedicure ($80)
A good gay needs to look their absolute best at all times. If you're willing to shell out a little extra cash, pamper your friend with a trip to Bliss Spa. A day of relaxation will have them feeling extra thankful and free of dirty nails and cracked skin.
8. An STD/HIV test
STD/ HIV test, Free, NYC Health 
While it's important for EVERYONE to get tested, HIV is extremely prevalent in the gay community. As a loyal friend, encouraging your gay bestie to check their status (at least every three months would be encouraged) is something I recommend.
Going along with your bestie for an STD/HIV test isn't exactly the most cheerful holiday gift, but it's most certainly a thoughtful one.
At the very least, you can buy them brunch after.
Good luck!