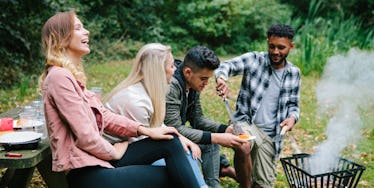 7 Fall Activities You Should Get In Before November 1 Sneaks Up On You
KKGAS
By this time in the fall, you've already been inundated with pumpkin spice everything. I'll give your taste buds a reprieve from the flavor of the season and leave your coffee alone. Autumn has so much more to offer than orange-speckled confections anyhow.
Now that temps are actually dropping, here are seven activities that will get you into the fall season.
1. Register To Vote
OK, you caught me. This isn't really an activity, but it's very important in this exceptionally bizarre presidential election. Registering is easy, but the deadlines vary by state so make sure you do it in time. Haven't you heard? Apathy is so last season.
2. All Things Haunted
Now that we're firmly in the month of ghosts, goblins and Fun Size Snickers, it's time to focus on Halloween.
Just want to dip your toe in the scary pond? A haunted hayride with your besties is a great way to get into the spirit of the holiday, and lower temperatures give you the perfect opportunity to sport the flannel you've been waiting to wear since August.
If you're a bit more committed to the fright factor, you can get all "American Horror Story" with it and convince your squad to check out whatever creepy abandoned building your town is known for.
3. Halloween: Rated-G
Of course, there's more to this holiday than sleepless nights, so get out and celebrate the lighter side too. A pumpkin carving contest will get your creative juices flowing and you'll be surprised just how well you can replicate the Sanderson sisters.
A viewing of "Hocus Pocus" to accompany the carving is totally up to you, but I highly recommend it. You can also head out to the pumpkin patch near you and enjoy some classic fall activities complete with changing leaves and apple cider. Get all the fall feels with no filter needed.
4. Sports
Do yourself a favor and get to a football game. Fall and football are the season's one true pairing. Whether you have every player's jersey on your team or you have to google "pick six" every time you hear it, a jam-packed stadium and a cold brew (or hot toddy) will never do you wrong.
You know I can't suggest a sports outing without mentioning my one true love -- baseball. Now, I'm partial to the post-season this year since my Chicago Cubs are in the midst of an historic season, but I wouldn't suggest shelling out for a game if you're not a fan of the sport.
5. Blaze A Bonfire
Who said s'mores are a summer-only treat? There's something so quintessentially fall about a bonfire that will get you into the spirit of the season whether you want to or not. Put away the phones and gather up the people in your life that always leave you smiling.
6. Experiment With Other Flavors Of The Season
A quick visit to Pinterest may give you pumpkin overload, but don't fear because there are other ingredients. Cranberry, pear and cinnamon is a lovely trio that finds its place in autumn.
If you want something heartier, there's no shortage of sweet potato and squash recipes out there. Root vegetables have their time to shine in the fall, and if you can stand the heat, a simple yet impressive dinner of roasted veggies will have you feeling like Ina Garten in the kitchen.
7. Fall Into A New Workout
Summer's sweltering heat has passed and the bone-chilling cold of winter is still far off; we're in the Goldilocks of seasons. If you've always wanted to try your hand at running, this is the perfect time. A brisk run with a slight nip in the air will make for the best runner's high you can ask for.
If pounding the pavement isn't your thing, checking out the beautiful colors that nature has to offer this time of year with a leisurely stroll or vigorous hike are great options too.  Just get outdoors and admire all that fall foliage.
Try one of them or try all of them. Basically, if you give up just one Netflix binge for a productive activity, you can consider it a win.